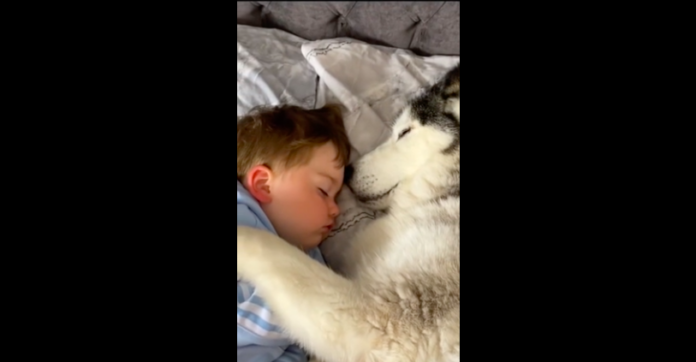 The long-lasting love between dogs and people is truly amazing, especially with the little ones. Dogs share a unique bond with babies that can not be replicated by anyone. Dogs and babies share common traits. They love to be playful, they both are happy around each other, and they spend a lot of time together. This is why dogs love to interact with them. Dogs also are gentile and protective of babies because they want to protect little ones. They are pack animals and their instinct is to protect the little ones from any kind of danger.
This heart-warming video shows a dog's relationship with a baby over 3 years when the baby was first born and the dog was a puppy. They grew up together and documented the process. The video goes by months that lead up to 3 years. As we watch the video, we can also watch the two grow up. We can watch as the baby develops more and more and becomes a little boy, and the puppy, a husky, fully grows. Their relationship is like nothing else. One adorable clip from the video shows the baby and the Husky sleeping together, and another one shows the Husky kissing the baby. So cute!
This journey has been amazing for the dog and little boy so far. I cant wait to see what comes next for them.
The people who have viewed this video seemed to love it, including me! A comment says, "I have a sled team of Siberians and ran a rescue for this breed for many years…there is something special about the heart of the Husky….willful, stubborn and opinionated…smart as a whip and a heart as big as the world! They have a special affinity for children. You have a wonderful dog there !!! I woke up this morning and stumbled on to your video…what a great way to start the day !!! Love is the only way, thank you and bless you…"
Watch the cute Rumble video here.