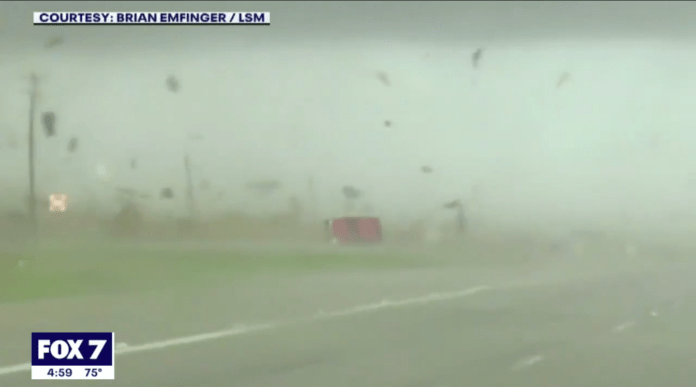 A teenager from Texas was driving home from a job interview when his truck was picked up and whipped around by a tornado.
A video by storm chaser and photojournalist Brian Emfinger has over 7 million views on Twitter.
The teenager Ryley Leon, who is only 16 years old, was interviewed by many local news outlets and has a GoFundMe page where people have donated over $39,000 to help the costs of his back injuries.
After the truck had been knocked over on its side and spun around a few times, it went upright again and Leon just drove off.
Emfinger said in the Twitter post, "I cannot believe they drove away like that."
Omg… just going thru my video. This is a story about a red truck and a tornado…. I CANNOT believe they drove away like that. #txwx #tornado pic.twitter.com/8h0nD88xFv

— Brian Emfinger (@brianemfinger) March 22, 2022
After the Bruce Lowrie Chevrolet dealership saw this incident and how bad of shape the truck was in, they decided to give Leon a brand new truck, dealership vice president Randall Shapiro told USA TODAY.
https://www.usatoday.com/story/news/nation/2022/03/26/driver-pickup-tossed-by-tornado-gets-new-truck/7179546001/
During the Facebook video ceremony, the dealership presented Leon and his family with the brand new cherry red 2022 Chevy Silverado 1500 LT All-Star Edition pickup, which has a price of $50,000, along with a $15,000 check to cover any "medical expenses and any other expenses that is going to come along with what went on," Shapiro said.
It will also help Leon get to his new job, which was the interview he was driving home from when the incident happened. His first day is coming up.
It was hard for Leon to believe that it was himself inside the truck when it was in the tornado, according to Fox 7.
https://www.fox7austin.com/news/gofundme-16-year-old-driver-red-truck-texas-tornado
He said, "I could have probably not been here. But thank God I am."
Bianca Jaimes, who works at the school Riley attends, said on the GoFundMe page, "His truck was totaled, but for the most part, he is doing ok. Unfortunately, he has begun to experience body aches and severe back pain, as one would expect after this type of accident."
Leon later went back to school but left early due to back pains.
Jaimes, the school nurse, told KXAN, "He said, 'My back has been hurting, it started hurting last night.'"
https://www.kxan.com/news/local/austin/school-nurse-starts-gofundme-for-teen-caught-in-red-truck-during-tornado/?utm_source=facebook.com&utm_medium=referral&utm_campaign=socialflow&fbclid=IwAR2_opHpbkQsLu7wHqaQVb43JCIaA83ZDTMhl9fD9qU290pKsuh-tuyO3Ow