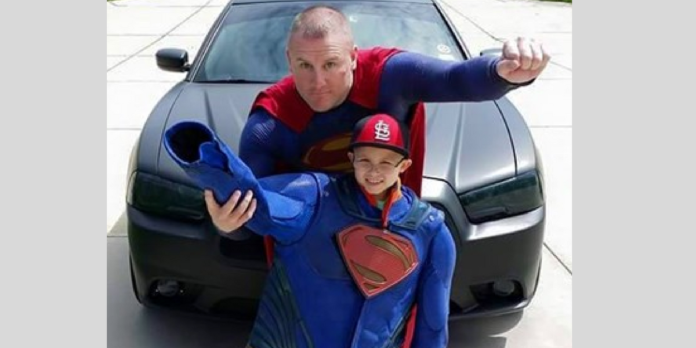 In early February this year, 7 year old Bryce Schottel was diagnosed with Lymphatic Cancer. This changed the life of not only him, but his family's as well. One day he was living the "normal life" of a 7 year old, and the next day, life came to a halt.
After his dad found a lump the size of a baseball on his sons stomach, they immediately had to get Bryce evaluated. He was unable to play sports, or excel in his school work due to multiple trips to the hospital weekly, for his medical procedures and chemotherapy. Over a months time, Brian (Bryce's dad) said that the tumor had grown immensely, and now his son, "looks like a 50 year old, with a beer belly."
Word got around in the small town of Bryce's sad diagnosis. Members of the community gathered to aid the family in whatever they needed, to help get through the tough times. Bryce was so loved in the community, that a few people had shared his story on-line. This is were Senior. Cpl Damon Cole saw the news about Bryce. Cole is stationed at the Dallas Police Department.
Reading the social media post about the Schottell family, tears came to Cole's eyes. He felt in his heart that he had to do something to bring smiles to their faces. He thought of flowers, or sending a gift card in a "Get Well" card, but none of that seemed to please his desire to help this family. Then he thought,
"This is a job for Superman!"
Cole is a member of Heroes Cops and Kids volunteer group. This is a group of police officers that dress up as Superheros to cheer up children at charity events and community functions. Cole shared, that when he saw Bryce's Facebook post, he saw that Bryce liked Superman. This was perfect he thought, since he already has the Superman costume, and even a Superman ride. Cole owns a Dodge Charger customized with the Superman sign on the hood.
"When I saw Bryce's story and saw that he is a big Superman fan it broke my heart," Cole stated. "I immediately thought of my own 7-year-old daughter and how hard it would be to go through something like that." This officer wasted no time contacting the Schottell family. He informed the parents of his plan, and they gave their O.K.
After hanging up the phone, Cole had to plan his trip as soon as possible. He had learned that Bryce does not live in Dallas. He doesn't even live in Texas. The Schottell Family resides in a small town of Smithton, Illinios, 11 hours away. This did not frighten the "Man of Steel." "If I can make that little kid's day, I don't care if I have to drive to New York or Maine or Seattle," Cole exclaimed. "Why not do it? I'm not rich, I'm not famous, but kids light up when they see me in the car and the costume."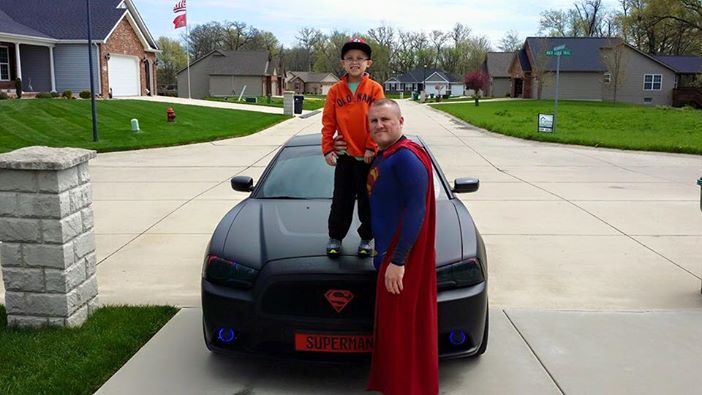 A few months after, Cole arrived at the Schottell residence. He was dressed in full Superman attire, from his head to his boots. The look on Bryce's face as Cole pulled up in the Superman Charger was priceless. Not only did the officer dress up as Superman, he even allowed Bryce to sit in the Superman car. Bryce was also showered with gifts from Cole, and they spent the afternoon playing matchbox cars and video games.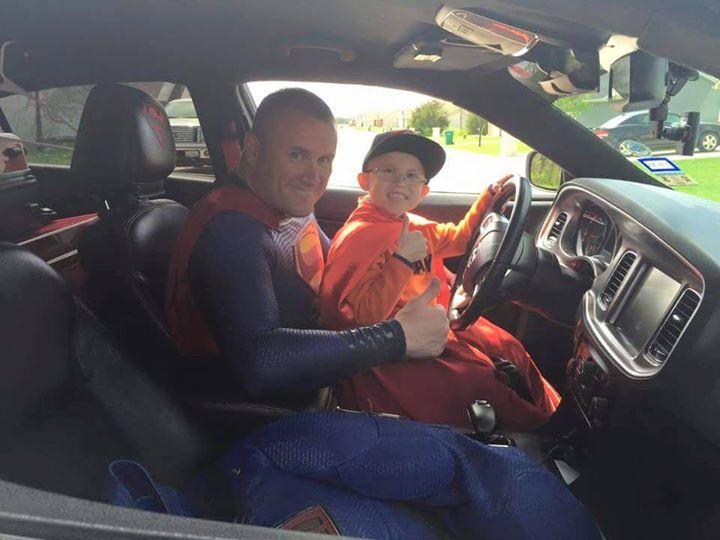 By the end of the evening, Superman had changed his attire and magically became Iron Man.
Officer Cole had used 3 days vacation time, and his personal money to fund this trip to Illinois. He said he would do it again if he needed to, and it was well worth it. "This is my way of making my difference," he shared with Fox 4 News .
"You don't see it every day — people like Damon who will take time away from their family to help a sick kid," Brian Schottel shared. "Even if it's just to hear that 'wow.' If the world had more people like that, we might be in a better place."
I couldn't agree more. If Bryce's story inspired you, please share with this with your friends and family. Their are still superheroes among us, maybe this article will assist in finding them.