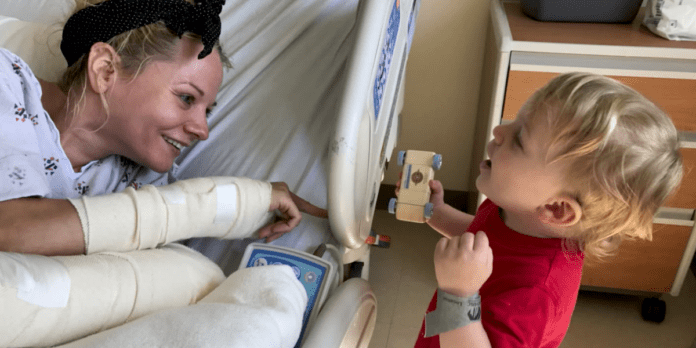 Caroline Maurer showed the world what true love looks like when she literally threw herself in harm's way in order to save one little boy.

It was a beautiful March morning. Maurer was out for a walk with two-year-old Fox, for whom she nannied.
The two were at a four-way stop and when they were in the process of crossing the street was when it all went wrong.
They were in the middle of the street when suddenly out of nowhere a car appeared. Completely disregarding the stop sign, the car made a hard, left turn and came straight towards Maurer and Fox.
Without missing a beat, Maurer shoved Fox out of the way, putting herself between him and the car.
"It was going to be him hit since he was kind of more in front of me. So, as the car turned in – I was screaming, 'Stop! Stop!' – and pushed him as hard as I could to get him out of the way," Maurer shared in a video.
Maurer shared about the moment the car hit her saying, "The car came and crushed my hands, the front bumper – and I was thrown a few feet."
Due to the accident, Maurer fractured multiple bones in her hands, wrists, and arms. Despite all the pain, she was in, she was only concerned about one thing; was Fox okay?
Her injuries prohibited her from taking Fox out of the stroller. "Fox was strapped in and I couldn't get him out because my hands were crushed and I was on the ground."
One of the first paramedics on scene shared that Maurer saved Fox's life and if she hadn't done what she did he would not be with the family today. Fox escaped the accident with a few minor scrapes and bruises, but nothing life-threatening.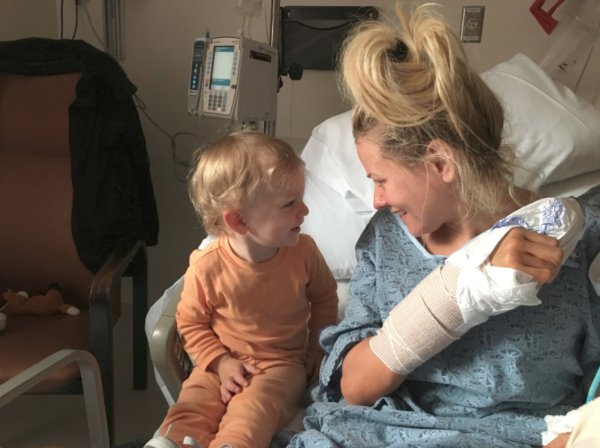 Unfortunately, Maurer stayed in the hospital for two plus weeks and then spent another two months in rehabilitation. Since March, she's had three surgeries, and began physical therapy in early summer.
The family is eternally thankful for Maurer and her heroic actions.
"I think my first reaction was: She's family for the rest of our lives. Because of Caroline, the worst didn't happen. She saved his life," the dad shared with KTLA.
Maurer was a student as well as a nanny, but since the accident, she has been unable to return to work or school.
The family along with others have started a fundraising page in order to bless and thank Maurer for all that she's done. A YouCaring.com account was set up in order to support Maurer, especially since they are unsure of if or when she will regain strength in her wrists and hands.
"As a mom, you give your kid to somebody else … your hope and your dream is that they're going to treat your kid like their own. I'm just so grateful to her," Fox's mom shared.
The video on the fundraising page makes it pretty evident that Maurer is loved and treasured by many kids and families alike and those families are lucky to have such a selfless woman to rely on.
If you are touched by Caroline Maurer's heroic act, please SHARE with a friend!
Also, watch this video of a nanny saving a little boy from a burglar in the house.
Source: ktla.com