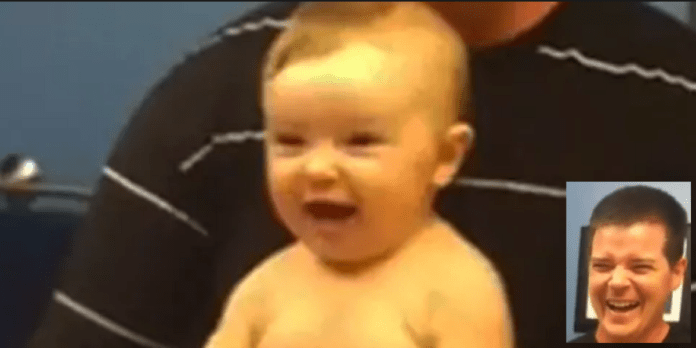 Nothing is as strong as the bond between a baby and their dad.  Even though babies seem like cute cuddly little humans they have a strong will to please their parents.
Watch as 8-month-old baby Hadley shows off a muscle flex with dad while getting ready for a bath. Now that's a cute moment! We're just glad that her parents thought to record the hilarity of the situation.
Even little 8 months old, baby Hadley is already one tough little girl! If you need proof, just check out this video of Hadley and her dad showing off in the bathroom mirror.
"In their video that is steadily climbing the viral ladder, Hadley's little arms are just the usual pinchable little nubs, but with dad's encouragement, she's probably seeing Wonder Woman in the mirror! Dad's getting a workout as well, what with all the belly laughs he's getting! Little Hadley can't stop humoring her dad by flexing her arms in front of her. Little does she know that she looks like the cutest ballerina preparing to do a plie, rather than a weightlifter, but we don't mind one bit."
Daddy is a strong role model for every little girl, because of all they teach them.  They learn to be patient, tough and self-motivated, looks like Hadley is already NAILING IT!
Watch Hadley Imitate her Daddy!  Share if you think she'll be a tough cookie!
Source: rumble video