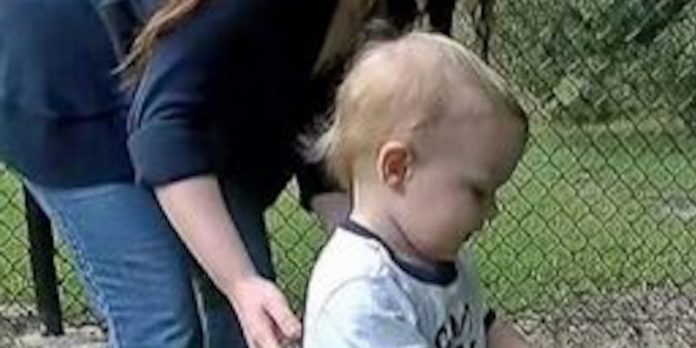 A baby is safe, an abusive babysitter is behind bars and a dog is hailed as the HERO.
Benjamin and Hope Jordan were new parents and did due diligence in their search for the best babysitter for their infant son, Finn.  Alexis Khan came up clean after her background check and after interviewing her the young couple thought they had found a responsible person to care for their new baby while they were at work.
But unfortunately, the opposite was true. Khan, who pleaded guilty to assault and battery, would abuse the 7-month-old child both verbally and physically.
How did they find out?
Their loyal lab Killian, the only witness to the abuse, wasn't shy about letting his feelings be known for the babysitter. Although the dog would normally bark when someone came to the door and entered the house, very quickly he would become shy and complacent with guests.
But whenever Khan entered the Jordan's house, Killian would growl and stand between her and little Finn. The dog would become very protective of baby Finn whenever she would come to the door. A few times they actually had to retrain the dog because of how aggressive he was toward Khan.
Killian persistently tried to warn Benjamin and Hope, so they finally took action. They hid an iPhone under the sofa and set it to record the voices in the room, then they headed off to work. They were not prepared to discover exactly what the woman they trusted was doing with their baby.
"It started with cussing," Benjamin explains. "Then you hear slap noises and his crying changes from a distress cry to a pain cry. I just wanted to reach through the audio tape, go back in time and just grab him up."
The parents were horrified to even hear what they believed to be the sound of Khan shaking Finn, something that could have ended even more tragically.
"To know that five months I had handed my child to a monster, not knowing what was going on in my house for that day," Benjamin says in disbelief.
The Jordan's believe that if it weren't for Killian, Finn might not be alive today.
"Had our dog not alerted us to the trouble, had my wife's instincts not said we need to make something happen, it could have been Finn that was killed by the babysitter," Benjamin says. "You never know."
This couple hopes that their story will give other parents encouragement not to ignore any signs that their kids could be in danger… even if the signs are coming from the family pet!