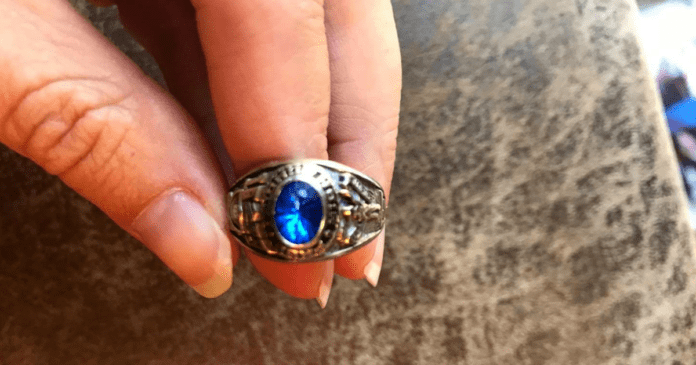 Whether you believe in fate or not, there must be good reason for this lost ring to return to it's owner not only once but twice! A woman from Pensacola, Florida says her high school class ring "keeps coming back to me."
Shortly after Shannon Rose Forester graduated from Pace High School in 1979, she was in a car accident where she lost her class ring for the first time. Luckily for Shannon, her ring was eventually found in a pawn shop by her father who was the sheriff's deputy at the time.
While stationed at the Navy Reserve Center in Hancock, Wisconsin, Shannon lost her ring once more.
Here is where Nicki Hintz comes along. While Nicki was cleaning her father's house after his death, she came across the sapphire and gold ring in her father's kitchen drawer. When she asked her aunts about the ring they told her that her father had found the ring after moving into the house years earlier.
Hintz believes her father "just put it in a drawer and kept it because he didn't know whose it was."
Naturally, in this day and age, Hintz took to Facebook to spread the word and attempt to find the owner of this ring. The interwebs can be a very powerful place and things can spread rapidly. With Nicki's post having over 800 comments and shares, it eventually made its way to the Pace High School alumnae page. Nicki's sister caught a glimpse of the post and brought it to her attention.
In such a time of sorrow and sadness for Hintz, finding the ring and the ring's owner brought her just the sense of happiness and hope that she needed.
"I think he would be happy that I found the owner," Hintz said.
Because of Facebook, Nicki was able to send the special ring to its rightful owner last week with a sense of accomplishment and happiness.
Forester, on the other hand, didn't think she would ever see the ring again. "I don't go on Facebook, but somehow in a very circuitous route the ring has made its way back to me," Shannon said.
We're not sure what Shannon Forester's high school experience was like but it must have some kind of importance since her ring seems to be pulled back to her every single time! Hopefully, the ring won't be lost again but we're sure even if it was lost it will definitely find its way back home.
Hopefully, the ring won't be lost again but we're sure even if it was lost, it will definitely find its way back home.
If you think it's amazing that this ring keeps coming back to Forester, SHARE this post!