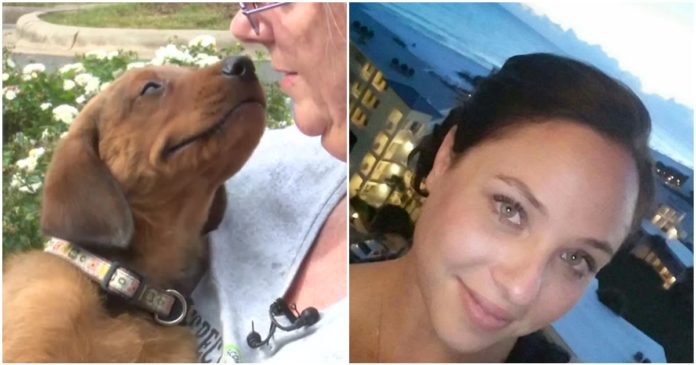 When this woman took a trip one night to a gas station, she had no idea that she was in store for this type of visit. When she went to head into the store to purchase some things, she was approached by an odd man. The man came up to her and ask if she had any rock. Kaitlyn Cappelluti, of Charlotte, North Carolina, knew that the man was referring to meth and immediately told him no and that she wished to be left alone. The disgruntled man turned away, but what she saw next made her confront the man again.
The druggy had a small dog in the back of his car and it did not look too good. The dog was panting and seemed a bit lethargic, with spots of hair missing from its back. Kaitlyn knew immediately that the pooch needed someone to rescue it, so she pulled out all of the money she had in her bag and offered the man the cash in exchange for the dog.
The man agreed and took the cash in exchange for the small dog. The dog was very scared and timid, but after some love and care it began to come out of it's shell. "I started making phone calls to everybody I knew that could possibly help out with him and thankfully South Charlotte Rescue stepped up." Said Kaitlyn. The shelter agreed to take the dog and find it a new home where it can be loved and appreciated for the kind and loving animal that it is.
"Bart was very lethargic. He was a bit dehydrated. Someone cut off his tail and that's infected." Says the shelter. The small dog was put on medicine and cared for until he was able to sustain himself again without issue. Now, he is looking for a new home.
Dogs have the amazing ability to forgive and forget no matter what the circumstance. This dog has already forgiven his rough past and has moved on to a life of happiness and excitement as he learns about this amazing world and all that it has to offer. Without the quick thinking of Kaitlyn, there may have been a much worse ending for the small furry baby, and we are very grateful that she made the decision to try and save the dog. Now it can get the good treatment it truly deserves!
If you are so thankful that this puppy was rescued from his awful owner, and now has the chance to have such a wonderful life, SHARE this post!