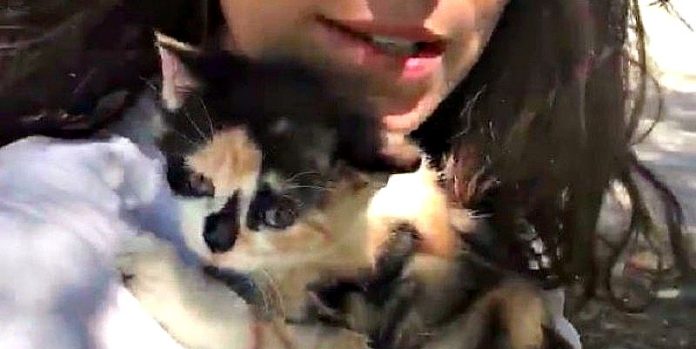 Carla Reilly Moore, the cofounder of Happy Trails Farm Sanctuary, went on a rescue mission to help two little chickens. But as she arrived, things didn't happen exactly the way they were supposed to.
She had gone to save the two chickens, who desperately needed a home. The home they were in didn't have the proper food for them, so she stopped at the local feed store, where they normally have a special cage there they house chicks and ducklings that they have for sale. But this time, they didn't.
As she walked in, only prepared to pick up some feed for the chickens, she saw the cage didn't have chicks or ducklings, but had a little tiny kitten crying inside the cage.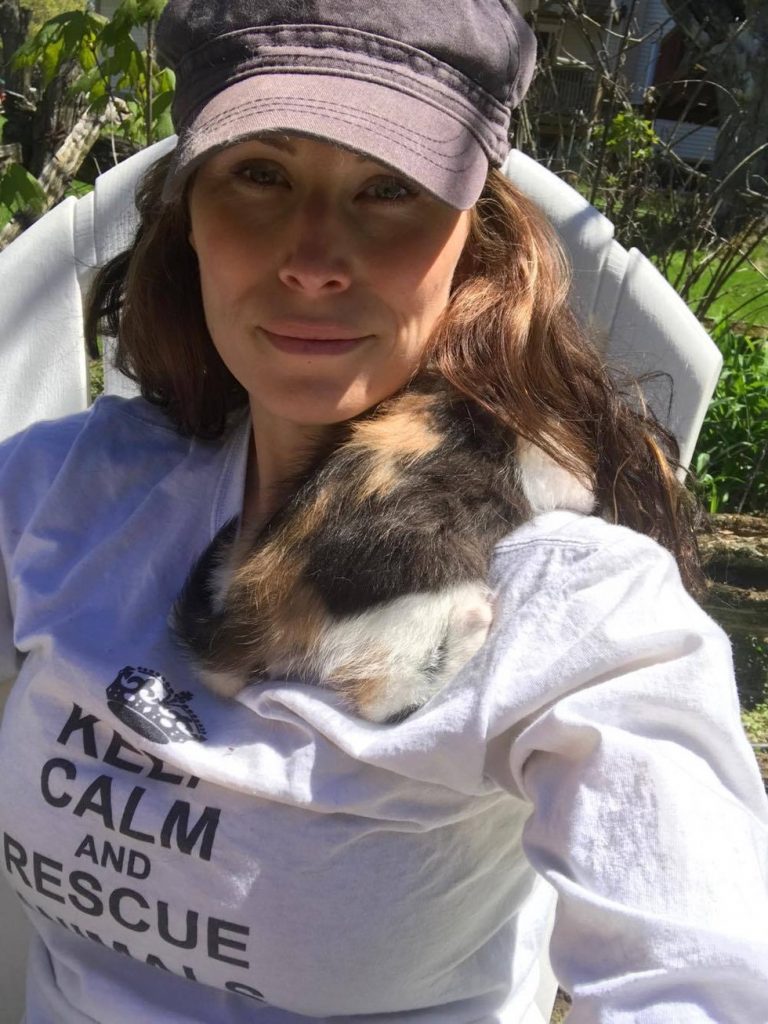 She had already rescued 6 cats, and wasn't planning on adopting anymore. But she took one look at this kitten, and knew she had to at least pick her up.
"(The kitten) looked so pathetic I couldn't resist at least picking her up to give her some comfort. I did pick her up, and she immediately latched onto me with all four feet," said Cara.
When she tried to put the kitten back in her cage, she couldn't get the kitty to let go. She had someone try to help her, but they couldn't get her to budge. The kitten had picked her. And was not letting her go.
She wanted to go home, and knew that her home was with Carla, and she wasn't taking no for an answer.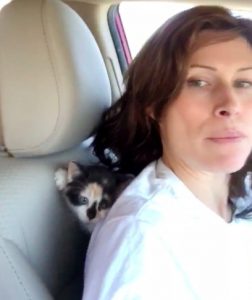 She let her husband know what was happening, and walked out to the door with the kitten still attached to her, and she named her Lola, AKA Treasure. And although driving home with her wasn't easy, they managed.
"I could not put her down. I went about my chores in the barn with a kitten attached to me. I ended up carrying her in a front carrying baby carrier, so that she could be close to me and feel my movements, and not be so afraid," said Carla.
Since the baby was always close to her ear, Carla could hear her strange breathing sounds. When she took her to the vet, she was diagnosed with a lung infection, and was given medicine and has been expected to make a full recovery.
But don't worry, she went to rescue the chickens too! She couldn't forget about them!
We are so glad that Carla saw little Lola, and was able to save her. The poor kitten would probably still be in a cage if it weren't for Carla.
If you are a cat lover, and you are thankful that Carla adopted Lola and brought her home, SHARE this post!