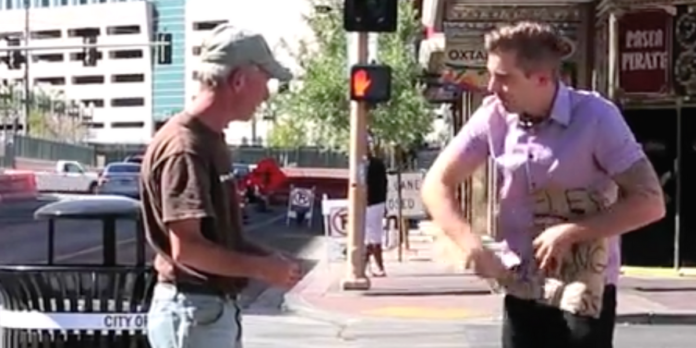 On the corner of a street, a homeless man named Alan McKracken stood.
He's been on this journey of homelessness for about 20 years and has traveled around the country without a home after serving 6 years in the army; 2 active duty and 4 inactive.
But he isn't a normal homeless man…Even being homeless, his ultimate goal isn't just to provide for himself and make money…
Even being without a place to live, his ultimate goal isn't just to provide for himself and make money.
Alan strives to make others smile and bring happiness to their lives, even if they don't help him out or give him money.
When Las Vegas magician Rob Anderson heard about this man and his inspiring story and mission, he had to go and meet him for himself. He wanted to see how kind this man truly was before helping him himself in a big way.
He wanted to see how kind this man truly was before helping him himself in a big way.
As Rob approached the corner, he went up to Alan and asked to see his sign and how he was asking others for help.
He drew dollar signs on the sign and asked if that helped him at all, and when he received an obvious no for an answer, he continued by ripping up this man's sign and again asking if that helped.
All Alan could respond with was a question if he could keep the magic marker so he could make another sign.
Of course, Rob said yes, but when he unfolded the "ripped" sign, Alan was speechless. The sign appeared as it had been untouched and tons of bills came pouring out.
The video ended, but off camera, Rob helped Alan pick up all the bills off the ground… The crazy part is their story still doesn't end.
Rob continued to help this man by creating a Go Fund Me page to support this deserving man.
He was surprised that so many strangers donated to support him as they raised over $40,000 in around a month.
Rob arranged to meet Alan again to help share his story and response to their initial encounter, and that's where he presented him with the check from all the money that was raised.
But again… The story does not stop there.
Alan is so selfless, humble, and kind that he refuses to keep all the money for himself.
He was so grateful that so many gracious strangers stepped in to help him get on his feet that he wanted to do the same for another veteran in need.
Alan McKracken has since moved to California to look for work and is now living happily and still impacting the lives of many and with the leftover money, they were able to help Johnny and his family who live in Las Vegas.
In the beginning, Johnny had no idea what would happen. He just thought that Rob was filming a documentary and wanted Johnny and his family to be featured in it.
Johnny served in the military for around 20 years and came home to work a government job until he needed surgery from conditions he endured during the war.
Because he needed surgery, he was let go from his job and had no way to provide for his family during his recovery. They even had to move into a different home because they could no longer afford the one they were living in and due to a mold problem they lost many of their essentials too.
When they were being questioned, Johnny's wife said they didn't know how or if they would eat that night and that's when Rob presented the family with $1000 cash. They had tears in their eyes but had no clue the surprises would continue.
Johnny and his family were then taken outside and in a truck waiting for them was everything they had lost from their previous home.
He also gave them gift cards for food and clothing, money for home repairs, and a check that covered their rent for an entire year. The family was speechless and so grateful.
Rob also helped Johnny get back on his feet and agreed to help him find a job and even bought the family a car.
If you're thankful for Alan's positive outlook, Johnny's story of life change, and Rob's generous heart please SHARE to brighten someone's day!
Source: rumble.com