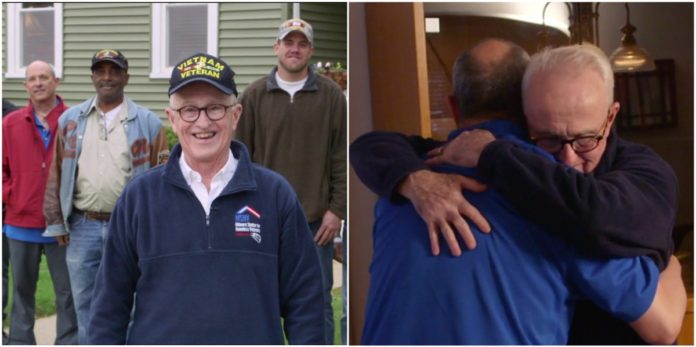 Wars can be hell on any veteran, yet some of those individuals can return home to find their lives in disarray. That can lead to becoming homeless, a problem that's especially disturbing when it comes to those that have served their country with honor and return to receive little or no help in return.

One veteran who understands this issue more than most is Bob Adams, who served as a Navy medic during the Vietnam War. The horrors that he had seen during his service, coupled with the unpopularity of the war and those who had fought it, resulted in Adams quickly developing substance abuse issues upon returning to civilian life.
This downward spiral went on for more than a decade, eventually making Bob homeless. After finally conquering his demons in 1985 by undergoing treatment, he began an educational progression that allowed him to gain a clear understanding of the devastating effects of Post-Traumatic Stress Disorder (PTSD).
Bob also helped feed homeless people that survived daily on the streets of Chicago and came to the realization that far too many of these people had served in the military. Over much of the next decade, he carved out a plan that would serve as the framework for the Midwest Shelter for Homeless Veterans, a non-profit which opened in 2007.
At the time the shelter opened, it could only accommodate five veterans in what was a run-down home. However, over the last decade, free assistance to veterans in a variety of areas now helps approximately 400 people, with two homes now part of the picture-one for males and the other for females.
Besides the housing, the veterans that Bob helps receive counseling for the issues they're facing. In addition, the Shelter requires them to spend either training for a job or looking for one. It also works with them to obtain household items that they'll need once they complete this transitional housing phase. To aid in the latter aspect, the Shelter has set up a store in which veterans can pick up needed items at no cost.
Some veterans have compared that phase to what amounts to basic training, primarily because of the discipline that is instilled once they arrive. The connection is intentional because keeping the veterans active helps move them forward in some way, even if it's slowly.
Since not everyone adapts as quickly as possible to the routine, the Shelter has made it possible for the veterans to stay as long as two years, if necessary, in order to get their life back on track.
Bob has a simple philosophy when it comes to explaining what such philanthropy can offer veterans who are struggling.
"We want them to take pride in their time in the military and remember what that was like," Bob said.
While Bob has retired from his role with the organization, he continues to provide assistance in helping aid his fellow veterans. That effort makes sure not to show favoritism for any specific branch of the service.
If you are glad to see veterans getting the care they deserve, SHARE this post!
Article via CNN