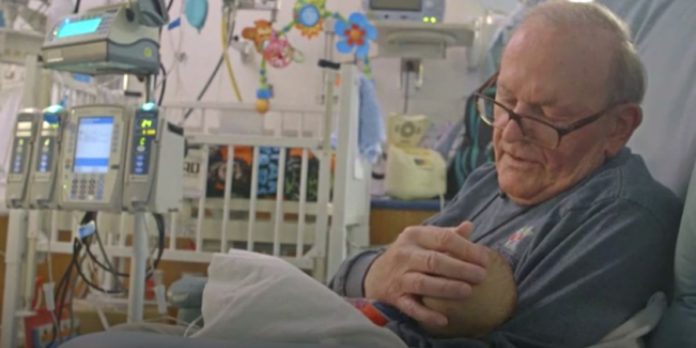 Mary Beth Brulotte's son, Logan came into the world 3 1/2 months before his due date. Weighing only 1 pound and 15 ounces and having a chronic lung disease, he has spent the first 5 months of his life in the NICU at Children's Health Care of Atlanta.
Having a 2-hour drive to the hospital, an 8-year-old daughter to care for at home, and her husband working night shift makes it difficult for Brulotte to spend all of her time at the hospital. She faces major guilt when she leaves him to go home. "Every mom pictures their baby in their crib all alone crying," Brulotte said.
But there is one thing that makes leaving her son so much easier, and that is David Deutchman aka the 'ICU Grandpa.' Deutchman has been volunteering at the hospital for over 12 years. Every Thursday he makes rounds at the neonatal ICU where he holds and loves on babies whose parents who are currently unable to be with them. If he hears a crying baby, he goes to soothe them.
"I was heading in and was filled with anxiety. It was just wiped away when I saw him there holding Logan fast asleep," she said. "He introduced himself as the 'ICU grandpa' and I thought, 'Oh my God, this can't be real. This man is like an angel.' He said he heard Logan crying and asked the nurse if he could hold him and sing him to sleep."
Deutchman also volunteers at the pediatric unit as well, spending time with the older children too. When asked why he likes to volunteer in the ICU he responded with "I like the fact that there's some serious stuff going on and I have an opportunity to make a contribution and help out."
He finds it very rewarding to volunteer his time. "You don't know each day what you're going to find and what you're going to be confronted with … It's an atmosphere where there's a lot of friendliness and warmth and appreciation. It's great. I really enjoy it." Deutchman added.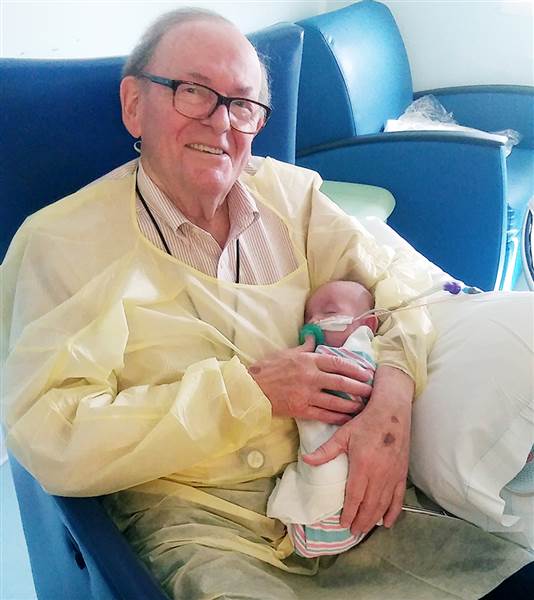 Deutchman lives in Atlanta and is retired from a career in international business marketing.  He spends two days a week at the hospital. He usually spends time with 2 or 3 babies a day because he wants to dedicate plenty of time to each baby. "It breaks my heart to put them in the crib so they are alone again," he said, adding, "I think it's important to hold the babies so they feel snuggly."
Deutchman's love for children is such a blessing for parents like Brulotte. He has such a wonderful gift to give the children. He is such a caring and kind man to share his love with other people.
"I don't feel so alone in this journey. I've felt like at all times, someone is there with my baby, regardless of whether I'm here or not. He's got someone looking out for him," said Brulotte. "That's what really touched me. (Deutchman) doesn't even know me, doesn't know my family and he didn't care. He heard Logan crying and rushed right in and soothed him. It's those type of people that don't search for the recognition that deserve it. I think he's just incredible."
If you think the world needs more kindhearted people like David Deutchman, SHARE this article!!
SOURCE: Today