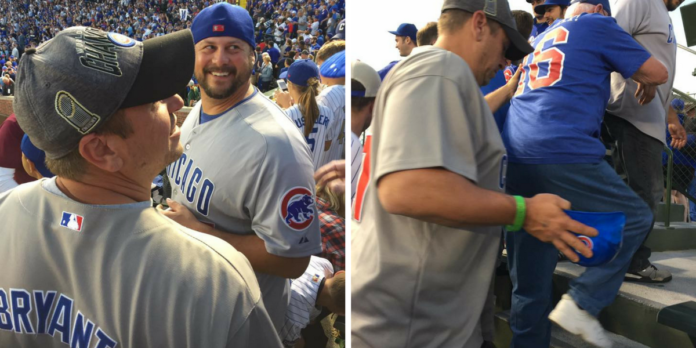 Cancer is a dirty, nasty disease that takes thousands of precious people away from the world.
For this elderly gentleman, his odds were not in his favor. After being treated with chemo for his cancer, he was told that he had done everything that he could to treat it. There was nothing else that they could do.
Knowing that fact, finding out that the cancer was the end in sight, he and his wife decided to live his life and just enjoy it to the fullest. They decided to go to a Cubs game.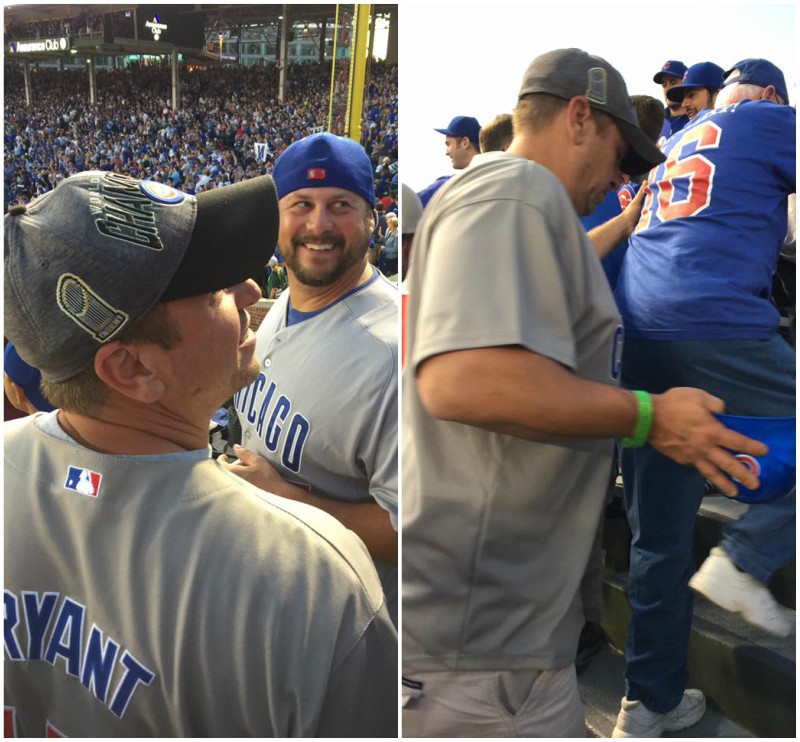 We all know how sports events are. Raging bleachers, loud chanting and cheering, and team rivalry. To say the least, sports events can be rambunctious and rowdy. For a man that has gone through chemo treating this parasitic disease, this can be challenging to endure.
As the elderly man and his wife were sitting in the bleachers watching the game, they caught the attention of some admirers. A younger couple who were enjoying the game with their out-of-town brother noticed the man struggling to get up and down with the cheers.
The younger woman, Lauren Hinkston Hintzsche, out of the two couples watched in amazement as her husband, John, and brother-in-law took action. The two brothers helped this sweet, old man stand with the cheers, sit down when he needed it, and escorted him up the steps.
Lauren chatted with the elderly woman as her husband and brother-in-law helped the sweet, older man. Lauren recalls the older woman saying, "He's going through chemo right now. We have done about everything else we can do and this is the last step."
As if this didn't tug at her heartstrings, Lauren just sat and watched the love that the older couple had for each other. She watched as the man patted his wife's knee, as they smiled at each other, and as he leaned over and said, "I just love this!" with a bright smile.
This older couple went to the game to enjoy an outing, America's favorite past time, and time away from reality while this younger couple came to enjoy time with their out-of-town brother and the Cubs.
What they didn't expect was to find a situation that they could make better– A way to touch the lives of the older couple with a big dose of life. Not only did these gentlemen help the older man when he needed it, they gave him the ability to enjoy the game.

If these men touched your heart like they touched mine and this sweet, elderly man's heart, like and 
SHARE
this with your family and friends. 
Source: wreg.com