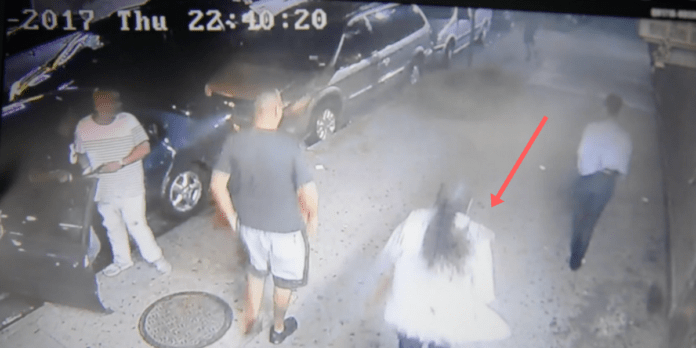 On a recent Thursday night, Jose Martinez attempted to grab a toddler on the corner of Wadsworth Avenue and West 192nd Street in the Washington Heights area. The little girl had accompanied her aunt to a deli there, and the two were walking back home.
The aunt says Martinez actually physically attempted to separate her from her niece, who was holding her hand as they walked from the deli. Martinez allegedly grabbed the little girl around her waist, lifted her, and tried to run away with her.
The aunt, who asked to remain anonymous, sprang into action. She began screaming that a rapist had taken her two-year-old, and ran after the attacker.
It didn't take long for her to catch up to Martinez. Interestingly enough, the baby's family members were also close and heard the aunt's pleas for help. They came to help as well.
The toddler's grandmother was next on the scene. When the aunt caught up with the attacker, she grabbed the baby and passed her to the safety of her grandmother's waiting arms. Then the aunt began to teach the potential kidnapper a lesson.
She hit him with her fists until the baby's father arrived, then he threw a few licks for good measure.
Somehow in the middle of all this, the aunt managed to call 911 from a Bluetooth headset she was wearing. The police were on the scene within minutes. In the meantime, a few bystanders that the family refers to as Good Samaritans helped to subdue the attacker until the cops could arrive.
Luckily, the little girl in question was not hurt at all during the incident. In fact, she did not even seem upset by the attempted kidnapping. The quick thinking of her aunt and father saved her from a terrible fate.
Martinez lived nearby the scene of the attempted kidnapping, but, surprisingly, has no criminal record of any kind.
There is no history to indicate that he would have committed this type of act and the family did not know Martinez prior to the attempted kidnapping.
Martinez was arrested and charged with kidnapping, endangering the welfare of a child, and unlawful imprisonment. He was arraigned and his bail was set at $100,000. However, he remains in custody.
Martinez needed an interpreter during his arraignment trial. Prosecuting attorneys allege that Martinez was drunk at the time of the attempted kidnapping.
If you're thankful that this sweet little girl was unharmed and is getting the justice she deserves, SHARE this post! Also, remember to keep small children close to you at all times to avoid these types of situations.