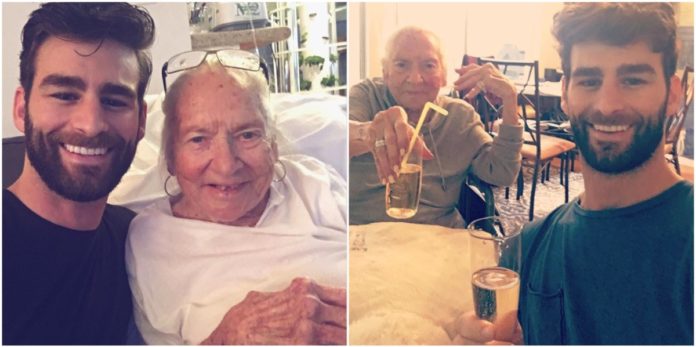 Empathy for another human being can emerge in many forms. Individuals can support something through a financial contribution or champion a cause during the course of their free time. It's not too often that working to help with a particular ailing person's plight ends up with them living with an empathetic individual.
Yet the story of 89-year-old Norma Cook and 31-year-old Chris Salvatore is one of those rare stories, with the terminally ill Cook being taken in by Salvatore as she battled leukemia. The two had been neighbors in a West Hollywood, California apartment complex for five years when Cook was forced to spend two months in the hospital fighting pneumonia.
Even before Cook's hospitalization, the two had bonded over their mutual love of champagne and her vigor that wiped away the 58-year age difference. When she was released, it was recommended that she have attentive care around-the-clock.
Salvatore took it upon himself to create a page on GoFundMe, a website that allows for donations on behalf of individuals or causes that need financial support. While the effort ended up raising $50,000, that cost still wasn't enough to sustain such care, which resulted in Salvatore inviting Cook to live with him.
That prospect developed because the only other option was for Cook to be moved to a county center. Such a possibility caused Salvatore to cringe at the thought of what would happen to a woman who he described as his "adopted grandmother." Cook's fondness for him caused her to refer to him as "the grandson she never had."
While the struggling actor and singer looked for work in those fields, Salvatore paid his bills by working primarily out of his apartment. That allowed for him to keep a constant watch on Cook, with the two often having a sip of champagne while eating peanuts, watching the news and simply talking. They also celebrated last New Year's Eve with a party at the apartment.
Part of the care that Salvatore provided involved cooking daily meals for the appreciative Cook, who noted that he could become a chef if his acting efforts aren't enough to support himself. Hospice workers and other caregivers came by on a weekly basis to check on her health, which was at least temporarily sustained by the love and support provided by Salvatore.
As invigorating as the assistance has been for Cook, Salvatore was equally energized by the ability to help an elderly neighbor and friend during the final stage of her life. He provided frequent updates through social media channels, with photos on Instagram documenting what was going on for those following Salvatore on the site.
Cook enthusiastically read the comments that people wrote in response to those posts, with Salvatore under the belief that such support was helping her maintain her will to live. While Cook passed away on February 15, it's clear that without Salvatore's support from the very beginning, her remaining time on earth would not have been so wonderful!
If you appreciate selfless people who care like Mr. Salvatore, give this story a SHARE!
Article via Women's Day and People