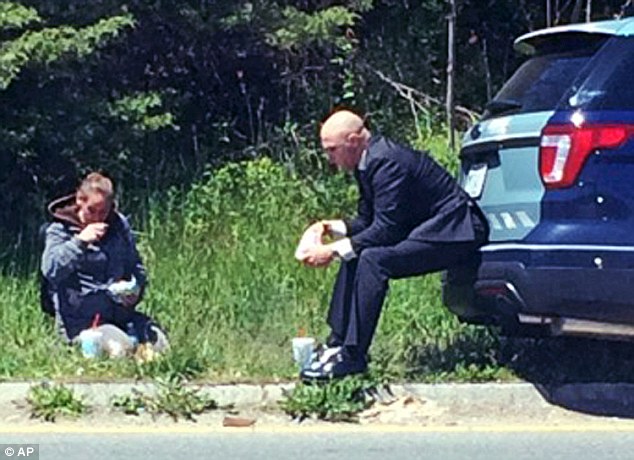 When he pulled over in his squad car, she thought he would give her a ticket for panhandling. Instead, he brought out two lunches and invited her to pick one of them.
Massachusetts State Police Trooper Luke Bonin had earlier passed the young mother holding a sign asking for help. He drove straight to a local restaurant and bought two lunches. When he got out of his car with lunch, the woman thought he might just hand her the meal and leave.
She was surprised and touched when he said: "Come around to the back of the vehicle. It's such a nice day, we'll have a picnic."
That's when someone who was just passing by took a photo. . .a photo that has since been shared over 100,000 times.
When Trooper Bonin was contacted about the photo, he was surprised. He never anticipated getting any attention. After some prodding, he reluctantly shared how he ended up sitting on his cruiser's bumper sharing lunch and conversation with a stranger.
What a great example of so many officers that day in and day out perform honorable and selfless acts of service.  Most of them go unnoticed, but because someone caught this tender scene with a picture, we get a peek at this panhandler's picnic.