Riding bikes can be one of the most enjoyable and relaxing things that a family can do together. When Frank Scrivens decided to take his great grandson out for a bike ride, he was excited to be able to get in a bit of physical exercise. That is, until the unimaginable happened and he left the important duties in the hands of his six-year-old great grandson.
Frank and his great grandson Shogun were taking their usual loop around the park lake on their going back to bikes when there seemed to be an influx of runners and dog walkers showing up along the walking path. They made the decision to take their bike riding elsewhere and found themselves riding along a BMX path near their original spot.
The BMX path was a bit more intense, and Frank ended up coming off of his bike and landing right on his leg. His femur snapped under the weight of his body, rendering him completely immobile and unable to get help. It was up to Shogun to step in and get help, and Frank knew he would be more than capable.
Frank gave Shogun specific directions to run back to the park and to alert one of the workers that his family member needed help. He did exactly as he was told and found someone who came to the rescue of the old man to relieve him from his pain. "Shogun wanted a go on the BMX track and I rode near him but came off and broke my femur. The area is quite remote and there was no one around th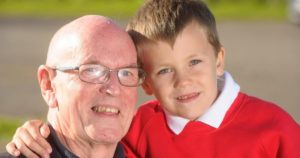 ere at all – but he managed to go and get a member of staff from the park to come and help us."
Paramedics soon came and were able to transport him to a hospital to be treated. Now that frank has recovered, he is praising his great grandson for being the hero who stepped up and acted very mature for his age in a stressful situation. Shogun handled the situation with calmness and maturity, and single handedly saved the life of his loving family member.
"For a six-year-old he was calm and collected. He was instrumental in getting people up to see to me." Without the quick thinking and bravery of Shogun, the outcome of the situation could have been much darker. Thanks to his quick thinking, Frank is now safe at home with his family and proud of his great grandson for saving his life. If you're proud of Shogun for being so brave, share his story with a friend.