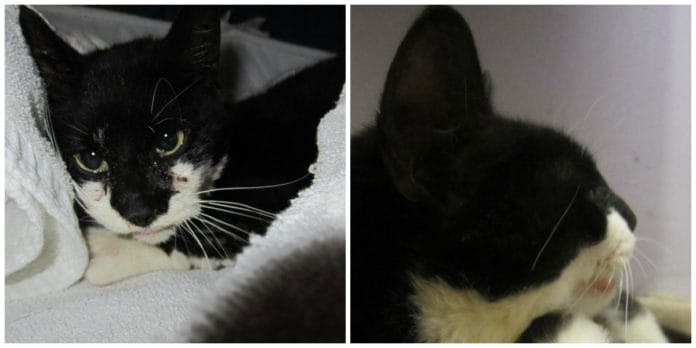 Sadly, we hear about animals being abused all the time. It shouldn't ever happen, but every single day, there is a tiny animal, begging for help. And this little kitten was one of those animals. That is, before she was found by Save Cats & Obliterate OverPopulation, Inc (SCOOP).
When this kitten, Sweetie, was found, her mouth had been shattered, and her jaw was unattached from the palette and hanging," said Barb Wehmann, who is the executive director of SCOOP.
They ended up having to completely reconstruct her mouth. By the end of it all, little Sweetie had 35 stitches.
Personally, I would have given up right then and there. But this little cat decided not to, and has given it her everything. She fought hard to get better, and was probably the most determined cat ever.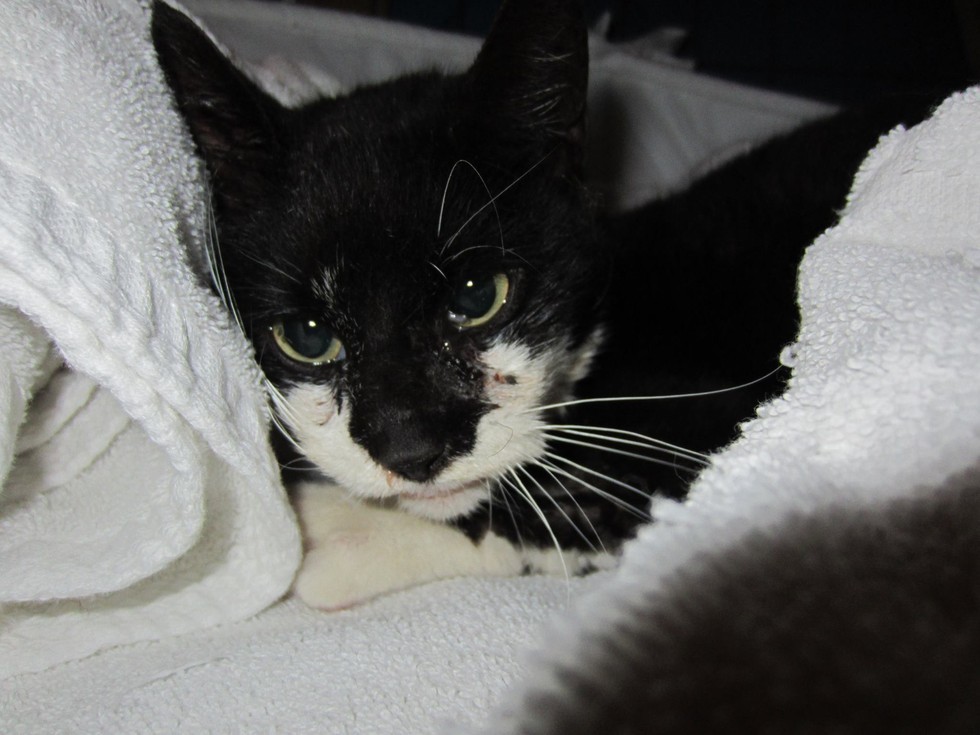 But it wasn't till a little bit later, that Sweetie decided to surprise everyone in the most shocking way ever. She gave birth to one single kitten, which weighed just 2 ounces.
Somehow, with everything Sweetie went through, this little kitty survived-even with the 10 days her mother had gone without food and water.
The problem was that Sweetie was not able to nurse the kitten, meaning that the baby's life was in a bit of danger.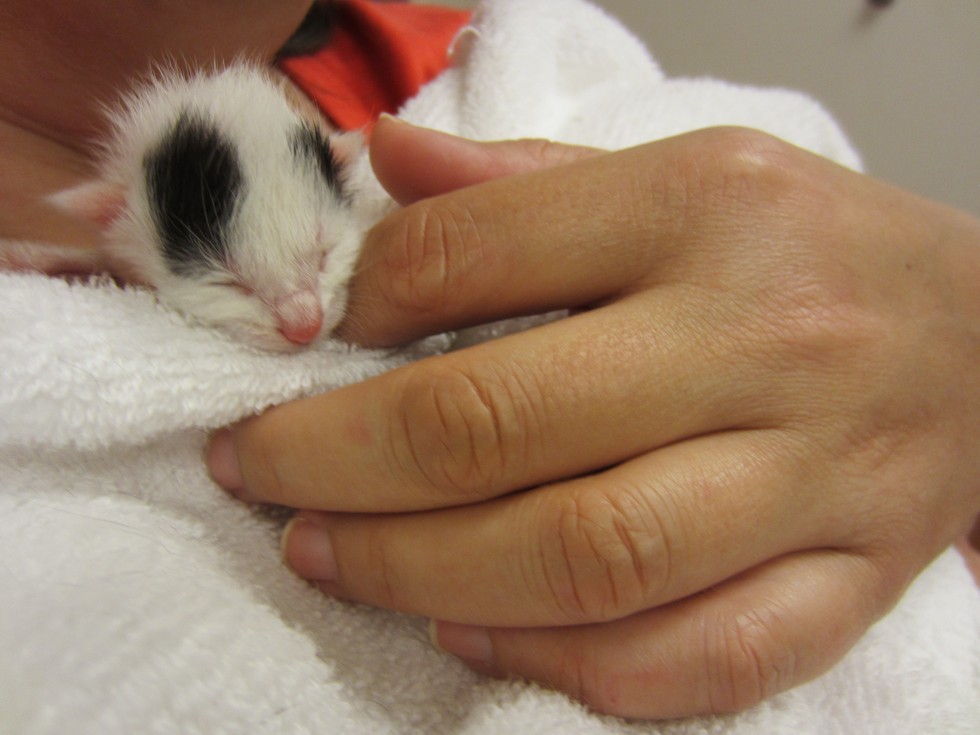 This meant that the staff had to work around the clock to help feed the baby, making sure the baby was given the proper nutrition and care she needed. But they left the loving and everything else to Sweetie.
"At 10 days old, the kitten was still the size of a stick of gum. She was named Jaax after the vet (Dr. Jennifer Jaax) who saved her mom's life," said Wehmann.
But the more they thought back from when they first met Sweetie, they realized she wasn't fighting for her life at all, but the life of her only baby. She was caring for her from the very beginning, even after everything she had gone through.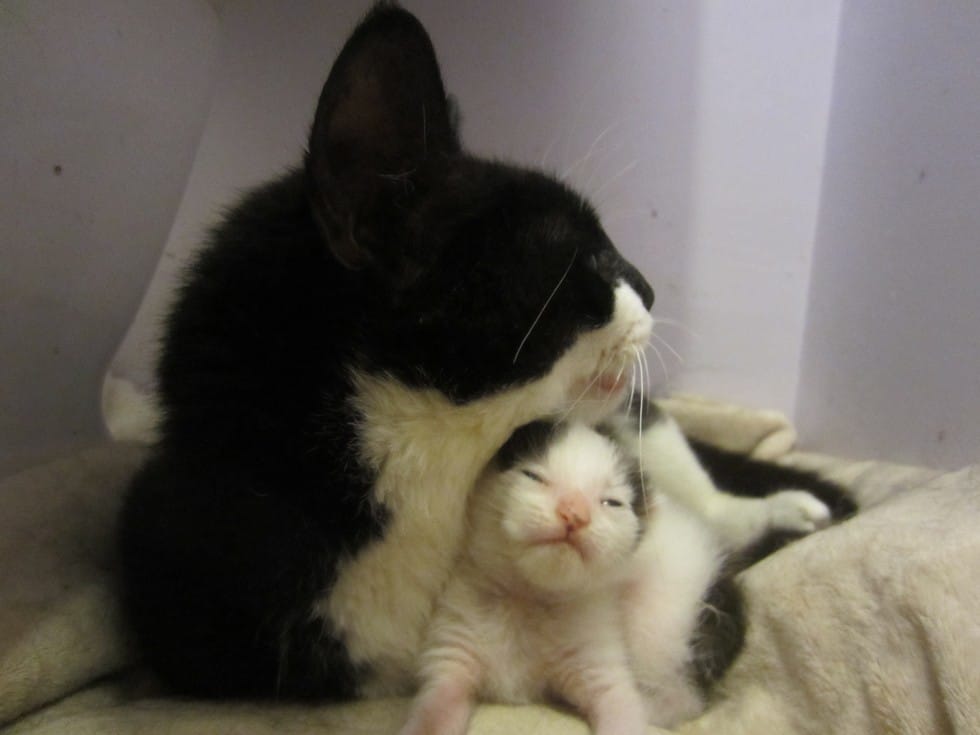 Sweetie has put her own pain and suffering aside to always care for her baby. Whatever Jaax needs, you can count on Sweetie to find a way to make it happen.
Sweetie just had her second oral surgery, but is doing absolutely amazing. She has fought through the pain, and is now teaching her 5 month old fur baby how to eat food from a plate.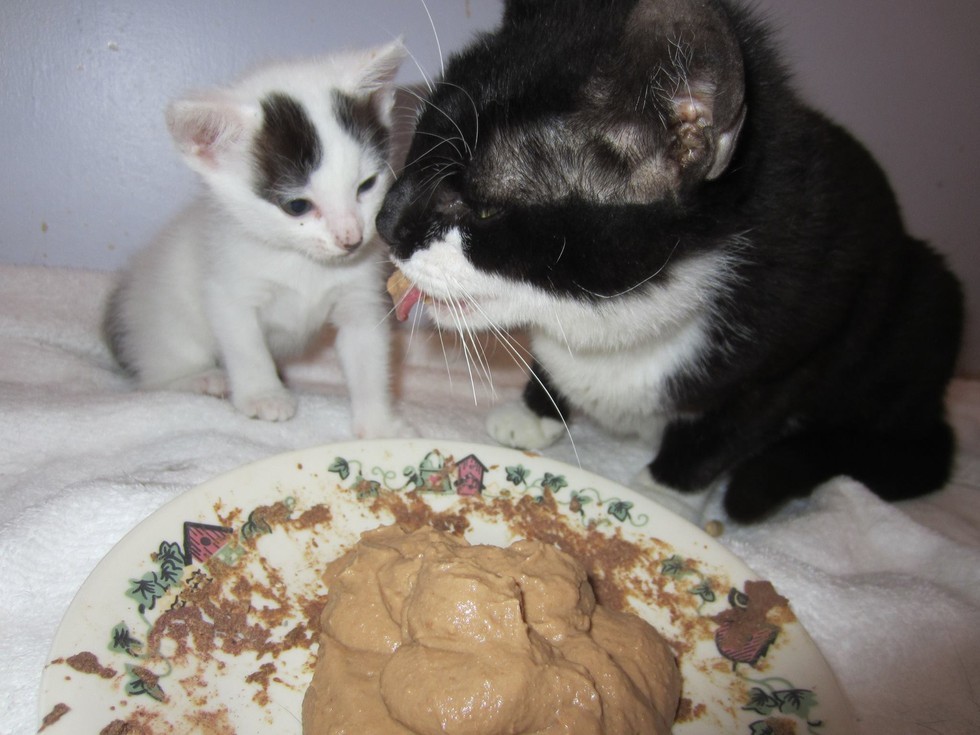 Sweetie never lets Jaax out of her sight, and Jaax is super protective of her momma. The two are the cutest mother-daughter duo ever!
We are so thankful that Sweetie persevered through everything for her little baby. She is one loving momma!
If you are thankful that both of these sweet kitties are progressing so well, and are glad that they are enjoying life together, SHARE this post!
Also, if you love cats you should check out these adorable cat videos!