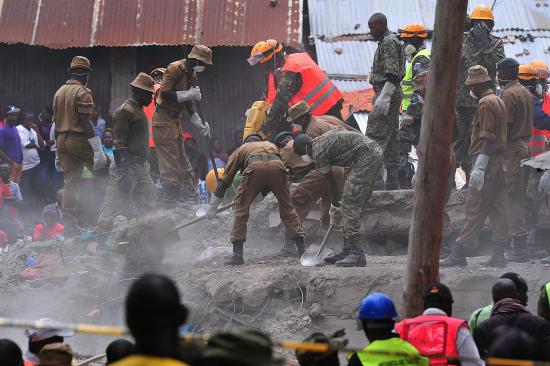 In Nairobi, Kenya a young 6 month old baby girl was saved out of a collapsed building. Last week on a Friday, a six story building collapsed in a small community. The building was said to have been structurally unstable and very dangerous. Before the demolition was even done, the building came down in pieces. This awful event caused the death of 23 people and left just over 90 missing.
The young girl's name is Dealeryn Saisi Wasike according to the Kenya Red Cross. After she was discovered and rescued she was transported to the hospital. Luckily the baby didn't have any physical damage. She was treated for dehydration but wasn't severely hurt.
Later, along with the owners of the building, an additional 21 administrators were brought in by the county government to start an investigation. They will be held for 3 weeks in order for the investigation to go on.
This building, along with many others in Nairobi aren't built properly because there is such a high demand for housing. Which in turn makes developers and construction companies take shortcuts and ignore laws in order to make the most money.
After the collapse of several buildings in Nairobi and the death of many people, the President, Uhuru Kenyatta demanded that all of the buildings were inspected to see if they are in line with all of the regulations. After the audits, the National Construction Authority discovered that nearly 60% of buildings and structures in the city are not suitable for people to be living in.
It's sad to know that events like this are occurring when they very well could have been prevented, but at least the President of Nairobi is doing something to try to solve the problem.