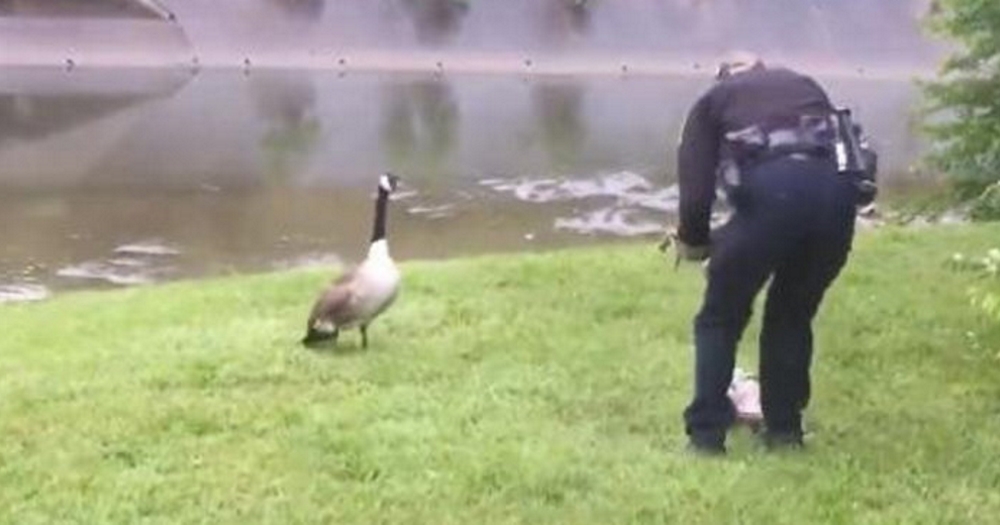 Once upon a time there was a Mother Goose and a police officer. . .
This is not a nursery rhyme, it's a true story of a mother goose who got a police officer to save the life of her little gosling.
Cincinnati Police Sergeant James Givens was shocked when the goose began pecking at his cruiser's door.
"It kept pecking and pecking and normally they don't come near us. Then it walked away and then it stopped and looked back so I followed it and it led me right over to the baby that was tangled up in all that string," Givens told WKRC.
The gosling had somehow gotten itself all tied up in the string attached to a Mother's Day balloon.  Givens and his partner Specialist Cecilia Charron worked to untangle the little goose while the mother goose kept watch squawking the whole time as if to comfort her little one.
As soon as the little gosling was free, she waddled to the creek and swam away with her mother.
A persistent mother goose, got the cop to unloose, her baby all tied up in string.
She then swam away, on a great Mother's Day, with gosling safe under her wing.