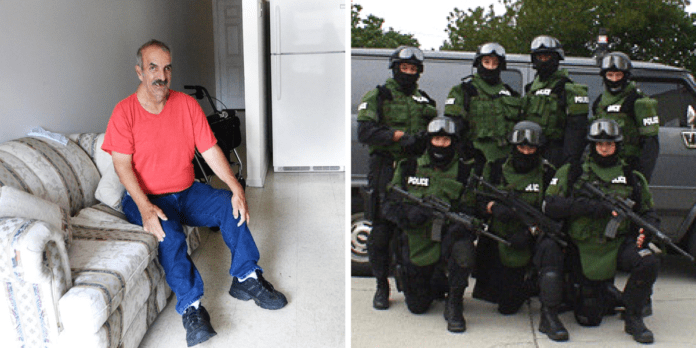 While the police are often seen as the bad guys, many have a real heart. That has been the case lately with the police department in Graham, North Carolina.
James Starke had been down on his luck lately until he received some unexpected help from officers including Corporal Chris Denny.
James Starke had lived in the same upstairs apartment in Graham, North Carolina, for 33 years. He lived on Social Security Disability Insurance, and he had little left over after he paid his rent.
Then, in April, he fell breaking his leg while unloading his truck. He says that one little misstep was all it took to send him spiraling to the ground.
No longer able to climb the stairs to his home that he had proudly maintained for 33 years, James moved to a local hotel. Unfortunately, his rent at the hotel was more than his meager earnings from the government, so he was faced with eviction.
James was walking in front of a local diner when he tripped and fell again. Officers with the Graham Police Department saw him fall, and they rushed to his aid. That is when the officer's learned about James' upcoming eviction from the hotel.
They said that they just could not stand by and let that happen. Within 12 hours, they had found James a new place to live at the Curry-Hayes Homes in Burlington, North Carolina. With help from the community, they were able to completely furnish his new apartment and buy him some new clothes and give him some food.
Officers realized that James faced larger problems, however, as the rent at his new apartment would be more than he could afford to pay long-term with his earnings. Therefore, they started working on a solution. Soon, James will be able to move into a newly renovated apartment back in Graham.
His new apartment will be located near the Community Recreation Center, so he can get help there if he needs it. Officers with the Burlington Police Department are checking on James regularly, and the officers in Graham look forward to being able to do so once James is back in town.
James says that he gets teary-eyed thinking about how everyone has helped him. The police department would like to thank the individuals and businesses who gave supplies or money to help James out. The police still have some money left in a special fund that they created for James to help him meet any future needs that he may experience. They are also exploring options towards getting him a different vehicle.
It should come as no surprise to residents of Graham that their police department went out of its way to help James. The department regularly raises funds for Special Olympics by helping at area restaurants. Their efforts have raised more than $1,000 for Special Olympics North Carolina.
If you were touched by this story of selfless police officers and their community to help a man in need, please SHARE their story and watch this video on how a police officer helped a family when they needed it most. 
Source: thetimesnews.com