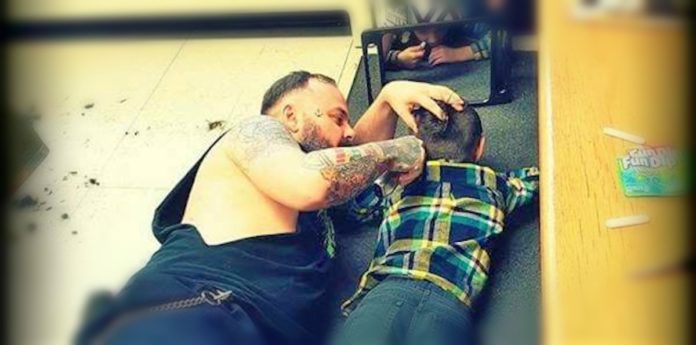 It all started in high school, a time when Franz Jakob would give haircuts for $5 a chop. He would charge fellow classmates for a haircut to make some cash.
Until things changes. Jakob got older, he learned more about life, the hardships that went with it. While in high school, he never encountered the child that was non-verbal, the kid that learned a little bit differently.
He never cut hair for the autistic child that couldn't sit in the chair, the one that couldn't understand what was happening. Until one day, he did. His barber show is fully equipped– It is decorated in an old-fashioned barber shop way.
The shop, Authentischen Barbier, is lined with photos from Rouyn-Noranda, Quebec, where Jakob is located. There are old-timey barber chairs and even an old cash register to really give it the look of an old barbershop There is even classic tunes on the radio.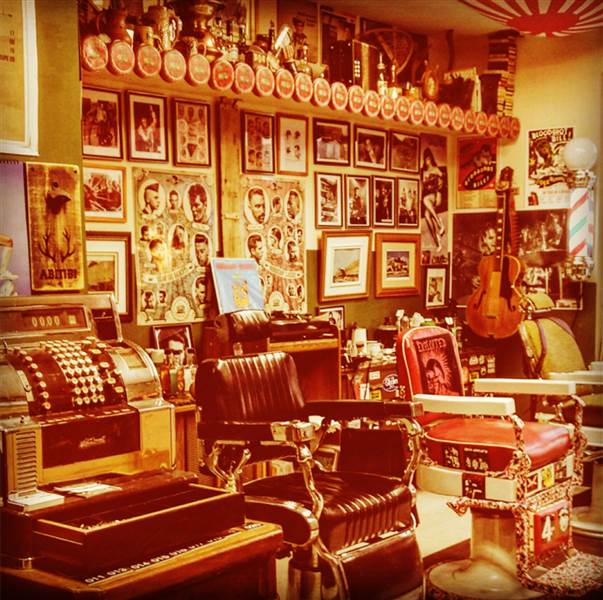 The look of the shops isn't what makes this place special– It isn't what makes people travel three and four hours to come to his shop. It's Jakob.
Jakob is the guy that will get down on the ground and cut hair, make a kid feel more comfortable, give them the opportunity to have a normal, nice haircut without a sensory overloaded meltdown.
"My shop is completely vintage," Jakob said about Authentischen Barbier, located in Rouyn-Noranda, Quebec. "All the walls are jammed with photos and stuff from around here. I think that has a positive effect on the kids. Each time I'm doing it there are no tears, no screams. We enjoy it together. I think the atmosphere of the barbershop helps a lot. I really take my time doing it. I can take up to 90 minutes cutting hair for kids with special needs."
Jakob takes his time with each client, sometimes taking up to 90 minutes for one hair cut. If a haircut means following a child around and laying on the floor to get the job done, Jakob isn't opposed to it.
If a haircut means following a child around and laying on the floor to get the job done, Jakob isn't opposed to it.
That's what he is doing in the picture below. Wyatt is a 6-year-old boy Autism. He will walk around the barbershop, checking out all of Jakob's awesome decorations. The barber follows him around the shop, trimming a little here, a bit off the top. If the boy wants to lay down and read a book or eat some candy, Jakob follows him there.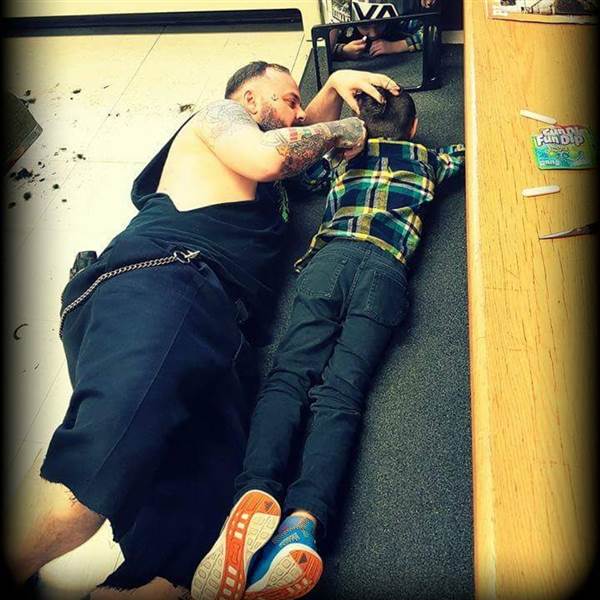 Fauve Lafrenière, Wyatt's mom, can attest to the greatness Jakob brings to the table… Or in this case, the floor. She has been taking her son to him since the shop opened.
As if this couldn't tug your heartstrings anymore, this totally awe-inspiring guy even caters to the terminally ill folks.
"The first time was some guy who brought me one of his friends who was in his last hours, and he wanted a shave and a haircut," said Jakob. "It became very emotional, and I said I would do it again. I'm taking great pride doing this. It's really an honor. We listen to some Hank Williams, and we shave like in the old-school ways."
No wonder Jakob has a long line waiting outside his door every morning! This guy is a true inspiration to his community.
If you think Franz deserves all the recognition in the world for the awesome things he gives to the world, SHARE this article with your family and friends now and watch this amazing video of a young boy with Autism's dreams come true! So sweet.
Source: Today.com