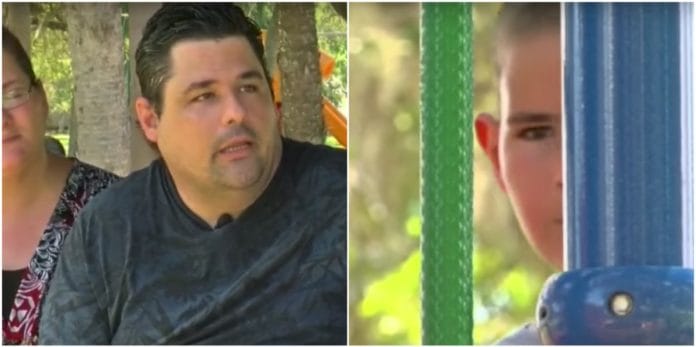 In regular fashion, North Port police officers stepped in to save the day.
Daniel Nicastro, an 8-year-old boy who suffers from autism, is a typical boy, but unfortunately, has trouble making friends. He wanted to celebrate his birthday by having a party, but nobody he invited showed up to enjoy the day with him.
His mother, Carolyn Nicastro, said, "No one called to say they were coming to his birthday party. Both myself and his father were heartbroken. It's hard when no one shows up."
And this is not the first time this has happened to Daniel.
"His father (Dan) and I remembered the past two years of no one showing up for his birthday parties, he would spend the day crying that he had no friends. We could not let that happen again," his mother recalled.
Since police officers are people that Daniel looks up to, his parents decided to invited officers from the North Port Police Department to celebrate with him. They didn't tell Daniel anything about their surprise.
And to the parents' surprise, the officers showed up, going far and beyond the call of duty. The officers not only showed up but surprised Daniel with gifts.
"(We wanted) to make that boy's day, spread good cheer; let him know that he is appreciated, that we did want to attend," North Port Police Sgt. Paul Neugebauer said. "Children with challenges and such don't need to feel left out more than they already are. So if he views us as superheroes, the least thing we can do is show up at his party and make his day."
The photo that was taken of Daniel and the police officers has gone viral, with people from all over the world reaching out to give the boy birthday wishes. Additionally, parents have asked Daniel's parents to set up play dates so that he can make new friends.
Daniel's dad, also named Daniel, said, "I can't thank (the police) enough. I never will be able to, and he'll never forget this birthday because of it I'm sure."
After seeing this happen to Daniel, North Port will go on to host a huge birthday party for Daniel and other children who have experienced the same thing happen to them.
When asked about what he thought about police officers, Daniel replied, "The police is my favorite characters … They save people from getting damaged or like stopping robbers robbing a bank."
And they do much, much more than that.
If you appreciate the incredibly kind move on the officers' part, SHARE this story!
Article via: WFLA