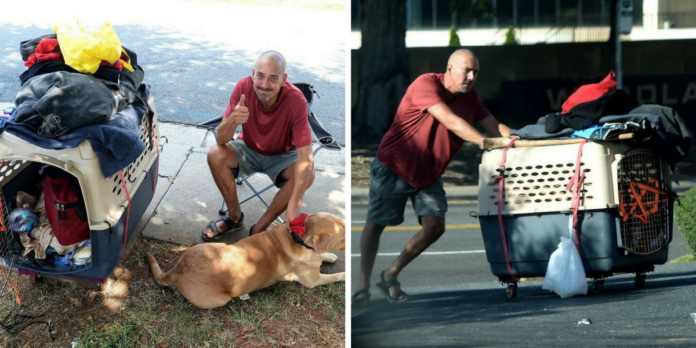 Most know the saying that "a dog is a mans best friend." Well in Charlotte, NC one man named Alan Lord really means it.
Alan is a 43-year-old homeless individual and he has been living on the streets for nearly a year now. Not long ago he was just another man, working a job at a local bank and going home to his wife and his townhouse in Myer's Park.
However, he recently went through a divorce, losing everything. His home, job, wife, and everything that came with it. But the one thing he got to keep was the most important of all, his 4-year-old dog Levi.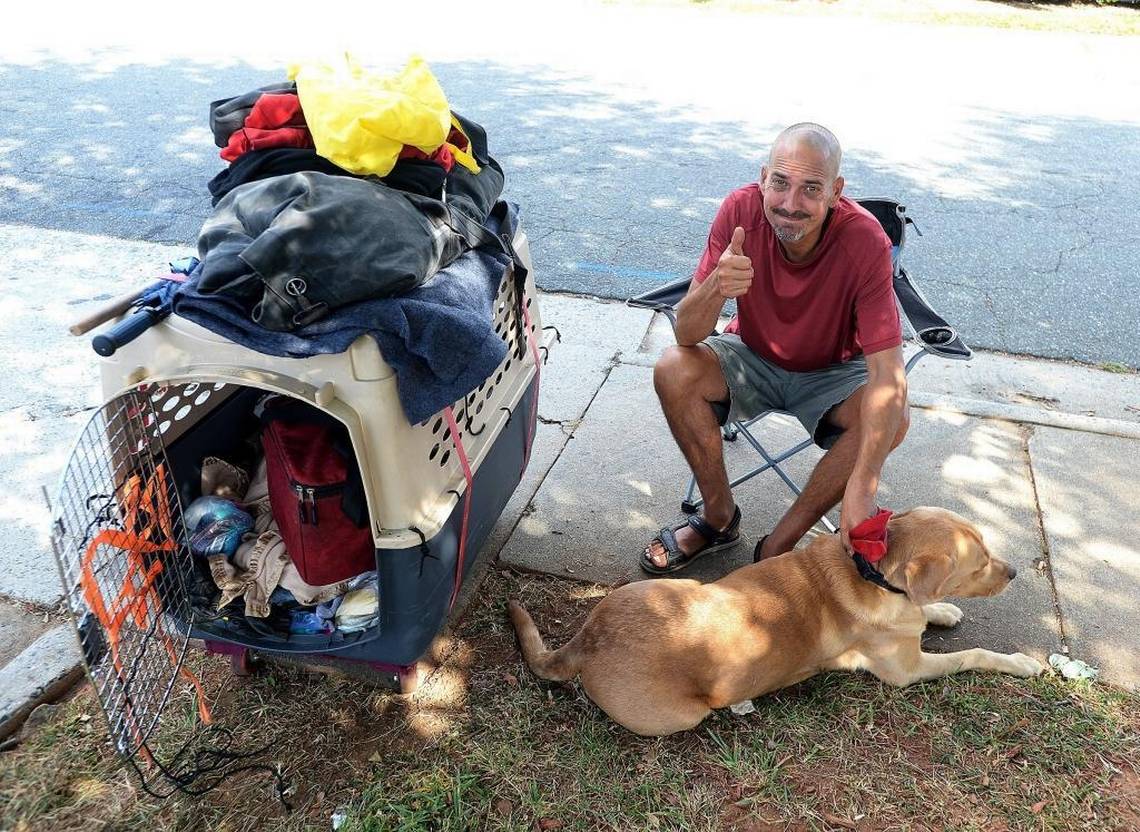 Levi is a good-natured tan Labrador Retriever weighing in around 80 pounds. Lord got Levi when he was just a puppy from a local breeder and they have been joined at the hip ever since!
You might think the idea of a man finding comfort in his dog after so many hardships is really sweet and most did at first, but that has changed as well.
Lord and his dog have everything they own in a dog crate on wheels and this crate is where Levi spends most of his days. This was okay at first. It was clear that Lord was doing his best and they received a lot of sympathies.
Local dog lovers donated to him and Levi, hoping to help him improve his situation so he could get himself and his faithful companion of the streets of Charlotte. That has not yet happened and it does not seem like Lord has a plan for it happening anytime soon.
Terri McConnell and her husband were featured on a TV news broadcast that highlighted the generosity of this couple. They have estimated that they have spent about $3,500 on Lord and Levi.
They wanted to help by buying them camping equipment, food and some other essentials that they have a hard time affording. McConnell said, "We didn't mind. But then there comes a point where you're like 'We're throwing good money after bad' … He's refusing help,"
The Miami Herald reported, "She [McConnell] also noted that Lord sometimes argued with her about Levi's welfare. She thinks Levi's living situation is unacceptable and that it's unfair Lord won't take steps to help himself and his dog."
Lord himself says that most of his family has either passed away, is no longer in the picture live or live far away.
He would like to move out to Hawaii to live with his brother in the future but has no money and no plan to do so anytime soon.
But this is what everyone is really frustrated about. Mad enough, in fact, that a Dilworth resident, Dina Castanas, called together a town meeting where she and 25 other angry residents criticized Animal Care and Control for not taking the dog away to live in better circumstances. They want Levi freed from the crate immediately.
"It's an animal caught in the middle. Levi has no voice and no choice in the matter," she said.
"We're not looking the other way. But taking the animal away would be a negative outcome." says Josh Fisher, director of Animal Care and Control.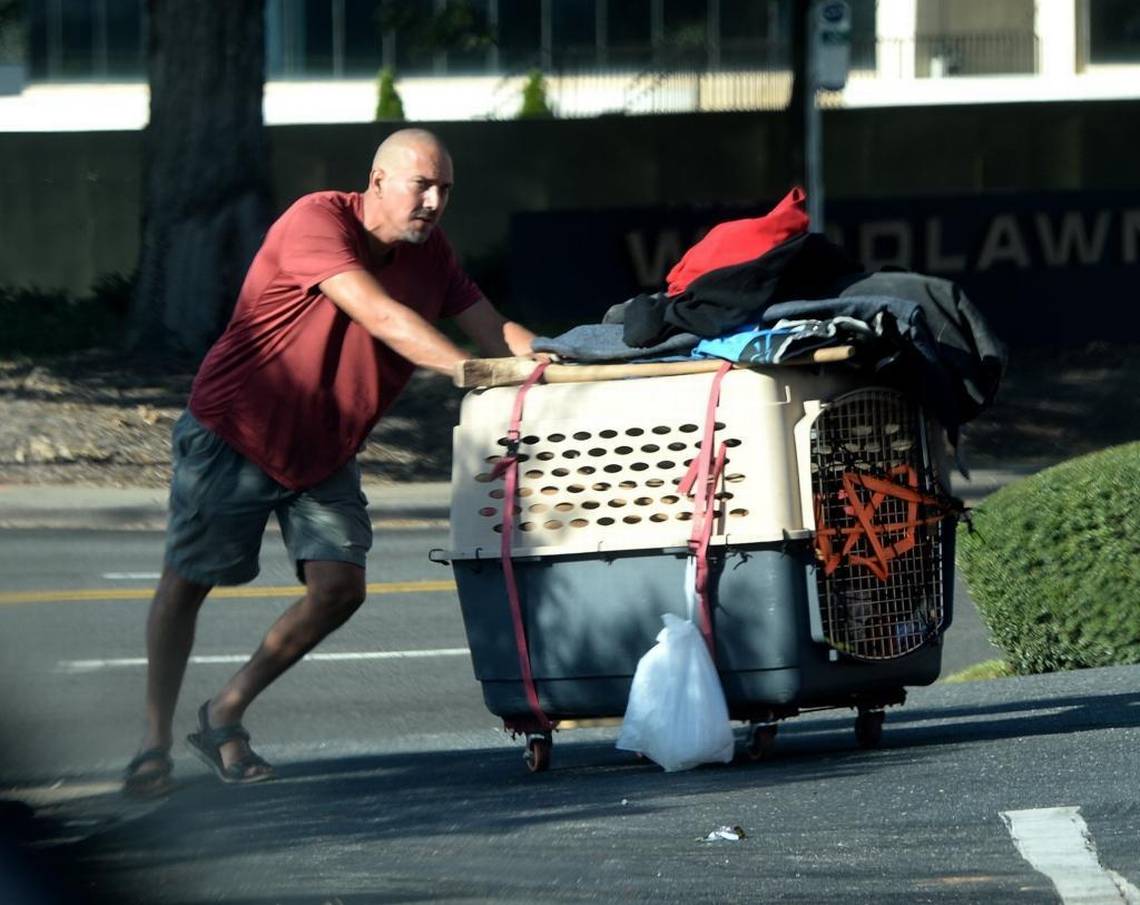 Animal Control has not stepped forward to take action because they have checked in on Lord and Levi and they have never found Levi unhappy or in bad health. Although there are laws about animals being left in crates for long periods of time, Levi just doesn't fit any other criteria.
The only reason Levi stayed in the crate is that Lord does not want the dog to be lost or taken by someone who thinks he has no owner, or even by someone who thinks they should take care of the situation and take Levi to an animal shelter themselves.
He has never been abused or been in need of medical attention. He is also all up to date on his vaccinations and has such a happy disposition that they can't really see a reason to take him away from his loving owner. Especially considering the fact that once put in the shelter there is no guarantee he will find a home anytime soon, if ever.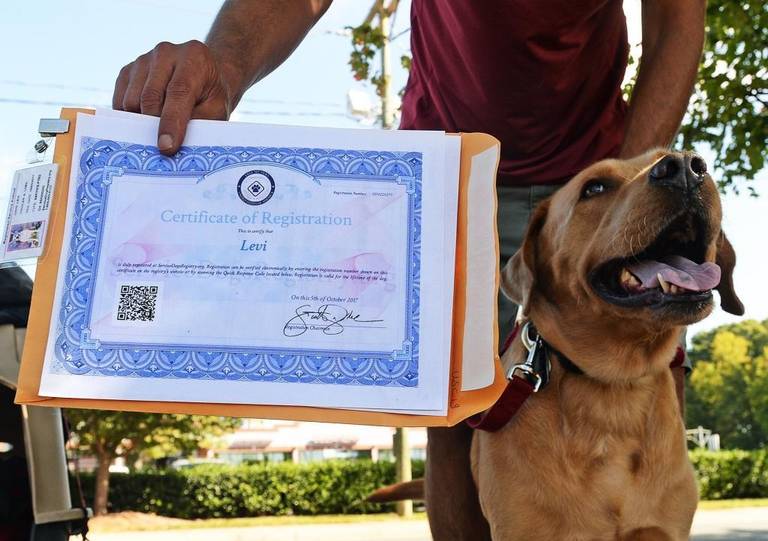 Lord has no desire to remain homeless but he has been having a hard time accepting help from anyone anymore because he has been facing so much criticism. The only person he seems to be truly comfortable with is Emily Cole, who is a Gastonia woman that helped him register his dog as an emotional support animal.
That is really what Levi is to him, other than just a loving and loyal pet, he is all that Lord has and he has said that without him he would "lose all motivation" because Levi is the "only thing that inspires me."
Emily Cole is making efforts to raise money for a homeless shelter where residents can bring their pets with them. All other shelters in the area do not allow this. If Lord would decide that he needed to go to one of these shelters he would have to go to an animal shelter as well and give up his best friend.
He also does not fit requirements for other housing programs because he has stayed in hotel rooms on occasion for the past year and that means he was not continuously homeless.
Although this whole situation has been difficult and there are many critics, Lord and his dog will continue on with their lives. Although it is hopeful that Lord is able to improve his situation soon, tearing apart this man and his companion does not seem to be something that will happen anytime soon. Thankfully!
"Public safety doesn't always mean taking an animal away," Fisher said. "We want to help try to find some of these community solutions."
If you have a furry companion you would never want to part with, or know someone who does, SHARE!