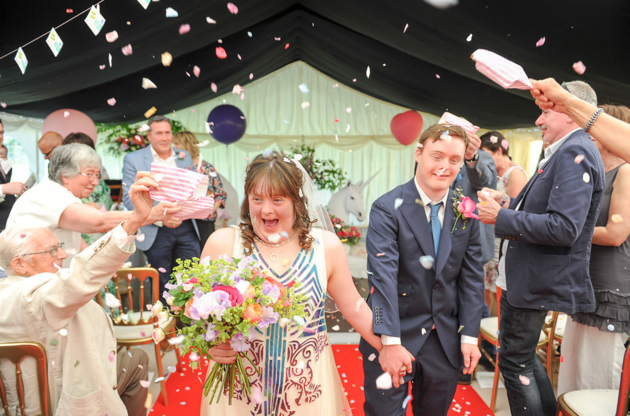 Polly Gibson gives this advice to couples and young adults with special needs: "Live the dream, believe in yourselves and that anything can be possible." And Polly has the street cred to back up her advice. She and Joe Minogue, both with Down Syndrome, just experienced the most magical wedding day possible!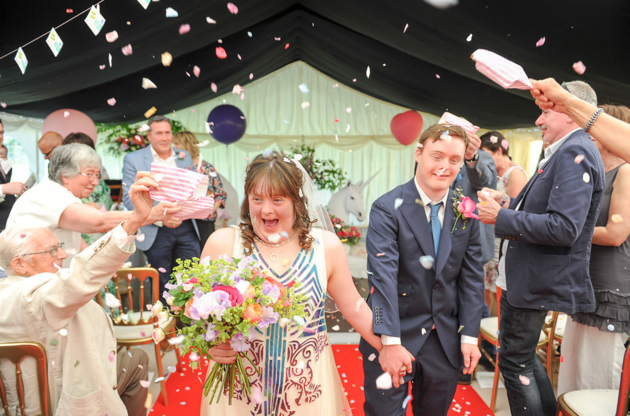 They recently tied the knot in front of 200 family and friends in what they called "WedFest." Their unique celebration included a unicorn throne, singing waiters, a magnificent cake covered in sprinkles and the most important thing of all. . .lots and lots of music and dancing!
Polly said, "We both love to sing and dance and we chose our favorite songs to play." Joe walked down the aisle with his brothers to the tune, "You've Got a Friend in Me." Polly walked down the aisle in her father's arm to "When You Wish Upon a Star." Before they exchanged vows, "I Do, I Do, I Do" was played and the congregation joined in on kazoos. The couple danced to "Come What May" just before they exchanged rings. Polly and Joe walked out of the ceremony to "I'm a Believer."
Makes you wish that you had been there, doesn't it?
Polly's mother, Janet Gibson, said that the couple shares am amazing connection. "They constantly check on each other, help each other, are very kind and thoughtful with each other," she said. "Polly is the bossy one, Joe is more down to earth. He adores her. They are totally at ease with each other and they each respect the other."
Polly and Joe met as students together at Central Sussex College. They said that they were immediately attracted to one another. They hope that their love story inspires other couples, especially those with special needs.
My guess is that Polly has more than accomplished what she has hoped for. . .Let's live the dream today, believe in ourselves and do the impossible! Thanks Polly and Joe!