Police officers do so much for our country in many different places. Sometimes, they do things that are seen all over the news, and other times, the things they do are overlooked. But this is one of those times that needs to be in the spotlight.
Victoria Mada, her sister, and her 13 year old nephew, X'zavier had made a trip over to the Indiana State House to see X'zavier receive "Youth of the Year" honor by the local Boys and Girls Club.
But on the way, something happened that didn't seem like a big deal, but it was to X'zavier and his mom. His tie had come undone, and his mom, a single mother, had no idea how to fix it.
"He tried to redo it himself and he just couldn't remember every step. My sister tried to YouTube it but it's not that easy. We were worried about how to get it tied. I turned and I happened to see and officer walking, so I asked that officer," said Mada.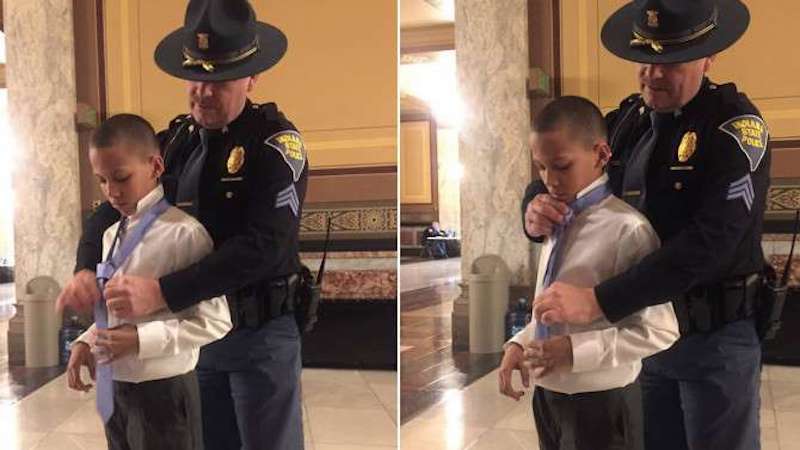 And believe it or not, this officer was more than willing to help!
Stae Police Sgt. Don Gregory was said to have stepped right up to show X'zavier how it is done. The two even shook hands afterwards! It was one of the sweetest things ever!
"I've got kids of my own. I like kids and they seemed like a very nice family. That's what we are all about, trying to help people. It was opportunity for me to help him out," said Gregory.
Mada, who used to be a 911 dispatcher, posted the photo of him helping X'zavier out, showing everyone that cops are good people!
We are so glad that Gregory was able to help X'zavier out, and that he looked spick and span to receive such an awesome honor!
If you are thankful that this officer was able to help him, and are proud of X'zavier for receiving such an award, SHARE this post!