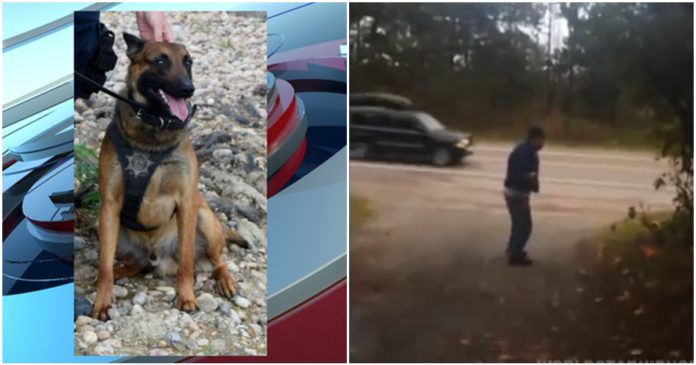 When this officer received a call, he expected it to be a routine one. The call was for trespassing, and most of these types of calls were routine and basic. Little did he know, he was going to have his hands full. When an officer faces a difficult situation, it is always nice to have someone watching your back. In this case, this deputy had all the help he would need.
The call rang in and sent the deputy of Adam's County Sheriff's Office to an area of Colorado known as Shaw Heights. In the car with the officer was K9 Lex, a 3-year-old Belgian Malinois who has served with the Adams County Sheriff's Office since February of 2015. Lex is trained well in many different fields, and is always ready to get out there and do her job. Today, she was going to play a big role in an arrest.
When the two arrived at the scene, the suspect took off running. The officer immediately followed in foot pursuit telling the man to stop. The suspect then jumped a fence and the officer followed closely behind. This separated Lex from the foot chase.
When the officer finally caught up to the suspect, he tackled him to the ground. A struggle ensued, and the officer found himself struggling to fend off the assailant. That's when Lex sprang into action. Using her nose, she unlatched the gate and forced her way through the barricade and into the skirmish.
Lex dove head first into the suspect and latched on with her teeth, freeing up the officer long enough to gain control and put the man into handcuffs. The deputy was taken to the hospital and treated for his injuries, before being released without any major damage. Without the brave and quick thinking of Lex, that circumstance may have ended differently.
Aside from being an attack dog, Lex is also trained to be a narcotics dog through the Colorado Police Canine Association and National Police Canine Association. She has earned her many badges and is well trained in being a service dog.
We are very proud of Lex for stepping up and being courageous in order to protect her partner in crime. Without her help, things could have gone very differently and gotten out of hand. Being loyal to your partner goes a very long way in law force, and what better than a dog who will relentlessly protect you no matter what? Great job Lex!