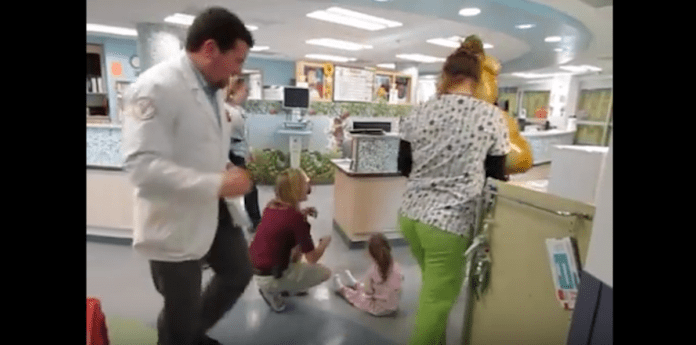 I don't know about you, but when I'm sick, the only thing I want to do, is to stay in bed, and not do anything. And that usually lasts for a couple of days. I struggle to push through it. And I know I'm not the only one like that! So I cannot imagine how I would feel if I was battling viral pneumonia like this little girl.
Danika had been hospitalized after catching pneumonia, and was having a hard time getting out of bed. She was exhausted, and extremely weak. It seemed like even lifting a finger was a complete workout.
But there was one problem. She had to get out of bed. If she didn't try, then she wouldn't get better. But little Danika continuously refused. She didn't want to move.
The nurses at Roanoke Memorial Hospital PICU tried to get her to get out of bed, but she was stubborn, and just wanted to sleep. So then they came up with an idea, and took it to her doctor, hoping he would be on board.
And luckily, the doctor was. And so they ended up bringing little Danika out of her bed and went out into the hall. But Danika didn't want to walk, and sat down on the floor. The physical therapist knelt to the ground, hoping to encourage her to get up.
Meanwhile, the nurses and some doctors began to dance around in a circle, want her to join their "dance train."
And after a moment of hesitation, this little girl hopped right back up, loving the idea, and began dancing and joining in on the fun.
This medical staff knew exactly what to do to get little Danika up on her feet, and it is the cutest thing ever! Her face just lit up, and she was so happy. Needless to say, this little girl is quite the dancer!
I am so happy that this medical staff was so amazing and patient with Danika, and I'm so thankful they were able to make her day!
If this video made your day, and you are glad that the medical staff was able to get her up and dancing, SHARE this post!