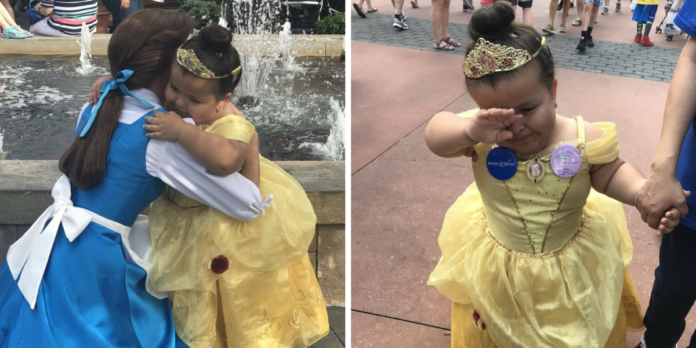 For years now, the Make A Wish Foundation has been making dreams come true all over. Whether it is to visit a place or meet someone famous or special, they do what they can to make sure it happens for these children, over the age of 2 and under 18, with life-threatening medical conditions. And this little fairytale story has proven just how magical the Make A Wish Foundation really is.
Ever since Daisy was born, she has had to endure a life full of struggles due to her diagnosis of dwarfism. She has had to undergo multiple surgeries on her back, neck, and legs. Just moving and walking had been a struggle. But with all of that, little Daisy has been granted a wish by the Make A Wish Foundation.
And it didn't take long for Daisy to think of her wish. It was one that has been in her heart for a long time. She wanted to take a vacation and meet her favorite Disney princess. It was a wish that the MAWF couldn't say no to.
Who was her favorite Disney princess? No other than Belle from Beauty And The Beast. Daisy was then taken to the most magical place on Earth, Disney World! And of course, Daisy appeared at the park with the appropriate attire-her fanciest Belle dress and a beautiful tiara. She was ready to take on the day like the little princess she is.
Before the day started, the actress playing Belle that day was informed of Daisy and her condition. She knew that somehow, she was going to have to make this day extra special for her. And she did exactly that.
When Daisy first met Belle, she was overcome with pure shock and excitement. And I mean, I would be too if I got to meet a Disney princess! It doesn't happen every day for most people!
But the two didn't just get to meet and get pictures together. Belle ended up taking Daisy on a tour of "France" and Daisy couldn't keep the tears from streaming down her face. If there ever was a perfect day, this was it for Daisy.
We are so glad that Daisy was able to have her wish granted, and had one of the best days ever. She truly deserved it, and I hope she never forgets that special day!
If you are thankful Daisy had a wonderful time meeting her favorite Disney Princess, SHARE this post!
Article via Goodfullness