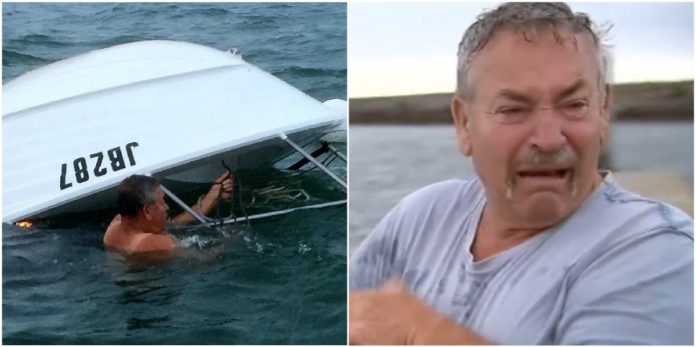 For those of us who are animal lovers, we would do anything to protect our pets. They are our best friends and they bring us so much happiness. I know a few people who consider their family dog, a child, rather than just a furry friend. Just like the fisherman in this story. His puppy is not only his best friend, his house pet, and his child; his dog is his fishing pal too.
So you could imagine the distraught, worry, and heartache when this fisherman's boat was capsized in the water on their everyday fishing adventure. Getting his self to safety wasn't his main concern. With his boat in pieces, he was rescued with only one worry in his mind: Where is my dog!?
Rescuers tended to the fisherman on the boat dock. Drying him and keeping him warm. Again, his mind was only focusing on if his dog would be found safe.
It wasn't just water that made the man's face wet, as tears filled his eyes when he accepted the fact that his puppy was gone.
While the rescuers and fisherman were resting on the boat dock, another rescue boat pulled up to the dock, and the rescuers quickly turned those tears into joy.  Aboard the tiny boat was the ever so loved dog. The fisherman was reunited with his puppy, Jack. He indeed did not go down with the boat. Jack was alive and excited to lay his eyes on his owner.
The excitement was unreal. This fisherman was extremely happy to see his best friend, his fishing pal, and even more, his child. He began jumping for joy!!  Laughing and crying at the same time. To see a grown man literally jump for joy is an awesome site to see. You can feel the utter joy while watching the video. His tears of sorrow and loss instantly changed into tears of love and happiness, and the video captures every instant of it.
This story melted the hearts of many local citizens and even caught the attention of a local news team.
Love and compassion were definitely in the air and water that day, and to see the joy in both the fisherman and the dog was a beautiful sight to see.
MAN'S BEST FRIENDTwo best mates have been reunited after their boat capsized off Victoria. The fisherman thought he'd lost his dog Jack, but when water police towed the boat back to shore; the dog was found alive and well on the stricken vessel. #9News

Posted by 9 News Perth on Tuesday, January 5, 2016
If you enjoyed the reunion of this fisherman and his best friend, please SHARE this video with your friends and family, so they can enjoy the love as well.
Article via Goodfullness