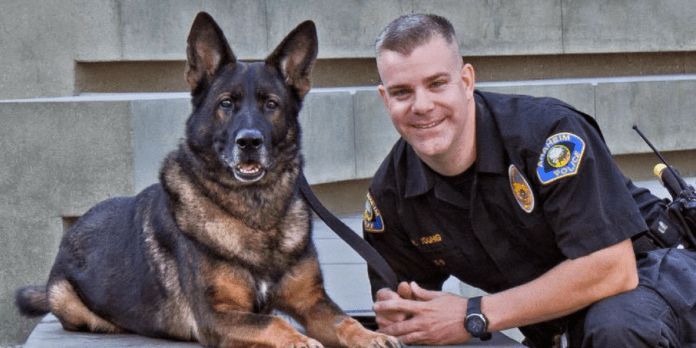 There is no denying the bond between canine and man. Throughout the years, dogs have proved time and time again that they will do anything for their owners, and that's why Officer RJ Young was praying that his beloved canine unit friend Bruno was going to stay alive and be safe when he went through a traumatic experience while chasing down a subject.
Bruno was chasing after a man when the man turned around and opened fire on the dog. He shot the dog directly in the head and the bullet ripped all the way through into the dog's chest. The dog selflessly threw himself at the man and risked his own life to save the lives of the other officers, who then went on to take the man down before turning to Bruno.
They were all shocked when they saw Bruno bleeding profusely.  "[Bruno was shot] point blank, it was a horrific thing to have to watch," he told ABC News. "My entire world came tumbling down in the matter of a second." Said Officer Young.
The police then went on to shut down all roads that needed to be taken to the animal hospital. They rushed the German shepherd to the hospital and immediately put him under for surgery. The recovery took two surgeries in total and they had to put the poor dog on a breathing tube. A week later, RJ and his favorite dog were reunited, and the two couldn't be happier to see each other.
While Bruno is healthy, he's now retired from service and has been adopted by Officer Young and his family. Officer Young explains- "He's like a son to me. Bruno will be with me for the rest of my life." Officer Young has now been partnered with another dog, who goes by the name of Yukon. Bruno will live out the rest of his days with his favorite people, getting the love and appreciation he truly deserves.
We think that Bruno deserves all of the recognition and praise that he can get, and hope that he feels loved and appreciated in his new forever home. We love you, Bruno!
If you think that this brave and courageous dog deserves to be recognized for his six years of service and his unbelievable attack that almost killed him, SHARE his story with the people that you know.
Article via shareably.co