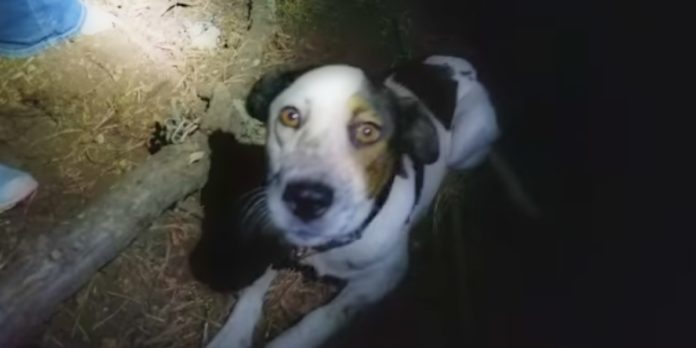 In early August, surveillance camera's recorded footage of a man dumping a female dog out of his car along the highway in Dallas Texas. It was an area that animals are frequently dumped and left behind.
The video shows the man pulling over on the side of the road, and he waits in his car for cars to pass. He gets out and pulls the dog, later named KD, out of the back seat by a chain that was attached to her collar. The man then, without hesitation, gets back into his car and drives away. He left her, all alone, with the chain still on her collar.
BREAKING: On Monday, September 11, 2017, Gorge Spears turned himself in to authorities after an arrest warrant was issued by the Dallas County District Attorney's Office and the SPCA of Texas earlier the same day on a charge of cruelty to animals, a Class A misdemeanor, for abandoning a one-year-old female mixed breed dog near Teagarden Rd. at Dowdy Ferry Rd. in southern Dallas. Criminal charges have been filed against Mr. Spears. The crime was recorded by the cameras the Dallas Marshal's Office installed in the area. This is the first time these cameras have captured an incident of alleged animal cruelty that has led to an arrest, and it marks the beginning of a close partnership between the SPCA of Texas and the Dallas Marshall's Office in ongoing efforts to crack down on animal cruelty in the Dowdy Ferry and surrounding areas. The dog, later named Claira-Belle, was found by witnesses on August 5th and picked up by Dallas Animal Services in the early morning hours of August 6th. The SPCA of Texas received information regarding the case on August 18th and then began the investigation. Claira-Belle was transferred to the SPCA of Texas on August 22nd, and cared for before being adopted on September 9th. During the course of the investigation, the SPCA of Texas spoke with Gorge Spears, who on September 8th admitted that he dumped the dog, saying that he was trying to help his sister by getting rid of the dog because his sister was unable to control her. This admission led the Dallas County District Attorney's Office's and SPCA of Texas' Animal Cruelty Investigator to file the arrest warrant.

Posted by SPCA of Texas on Tuesday, September 12, 2017
Volunteers from the Dowdy Ferry Animal Commission, who check this area frequently for abandoned pets, found this poor KD 9 hours later. She was not far from the road. Her chain was mangled in branches, leaving her unable to move.
Thankfully, the authorities were able to find out who did this to KD because of the surveillance video. The Police issued a warrant and the man eventually turned himself in a month later. Claiming the dog was his sister's and she needed to give KD up because she was not able to care for her.
He believed it was better to dump KD on the side of the road and hope she would fend for herself than to take her to a shelter. He was charged with animal cruelty.
UPDATE: Although justice was served, this story doesn't end here. At the same time, the man was facing consequences for his cruel actions, KD was in the process of being adopted.
On Sept. 9, Henderson and her boyfriend, Zachary San Roman, went to the Society for the Prevention of Cruelty to the Animals of Texas looking for a dog. They played with KD and felt an instant connection with her. Not knowing the story of her sad past, it didn't really matter because they fell in love.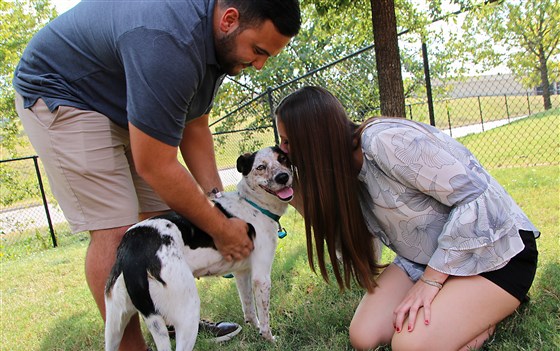 "She was so sweet; we both knew we had to get her," said Henderson.
They brought her home and she instantly became a part of their family. They learned that KD adores belly rubs, cuddles, going for walks, "watching TV and meeting new people."
Henderson said, "She is one of the sweetest dogs I have ever met." The couple is spoiling her, they love to take KD to the pet store and let her pick out her own toys.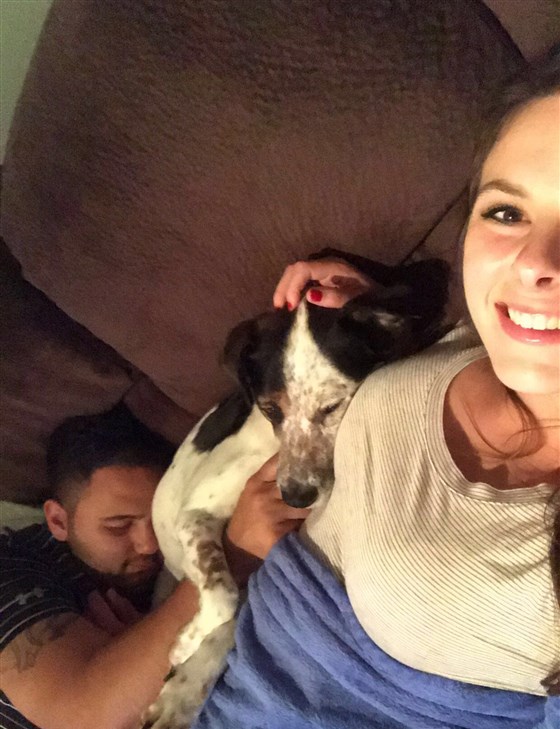 She also gets to live her new life without being on a chain.  "No more chaining for KD ever again," Henderson said.
The SPCA of Texas hopes KD's story will raise awareness that abandoning pets is illegal, and shelters are there to help find pets new homes if they are needed.
If this story has made you smile, SHARE it with your friends to make them smile too!
Source: https://www.today.com