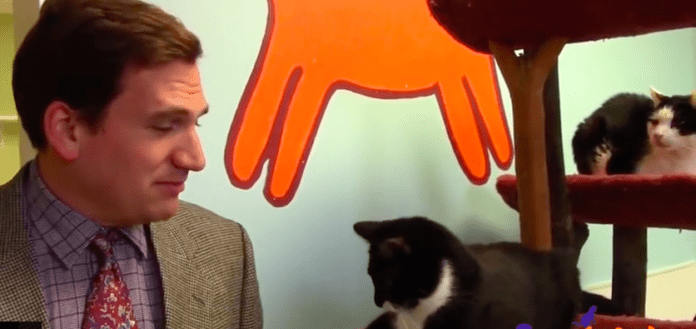 I'm not sure they ever believed that this low-budget, impromptu commercial for an animal shelter would garner well over a million views on YouTube! But "Kitty Kommercial" has taken the internet by storm and there's no doubt that Furkids Animal Rescue and Shelters could not be happier about it.
The Furkids animal rescue organization and group of no-kill shelters is headquartered in Atlanta, Georgia. They tapped Paul Preston, an Atlanta native to take the lead in the commercial. His goal was to try and get people to adopt some cats like a used car salesman would do it. He pounced at the opportunity. . .
Preston had a bunch of "purrfect" one liners; they had a woman in an oversized sweatshirt pretending to be one of those inflatable tube people you see at dealerships; and he even closed the video with a not so "purrfect" cover of the famous Sarah McLachlan song which is featured for the Prevention of Cruelty to Animals ads.
After you watch the video, you might assume that Preston is a local comedian, but not so fast. He is a contractor with a rental property management company. His sister volunteers with Furkids and thought he would be awesome.
The entire video was improvised and took about 30 minutes to shoot. Although no one at Furkids could give specific details about the cost, it seems to be in the ballpark of a couple of cans of cat food.
I'd say that Furkids got more than their money's worth on this Kitty Kommercial!  You are gonna love it and want to share it with your friends!