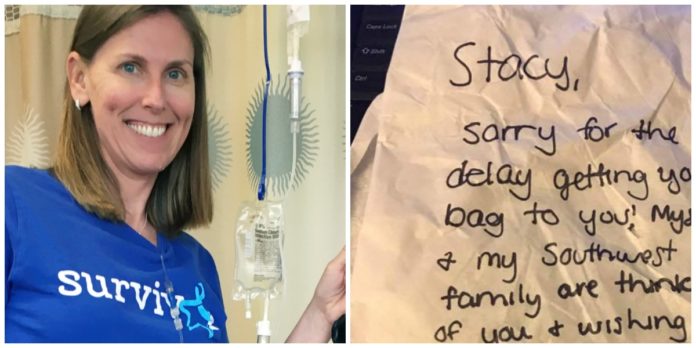 There is a big difference between going through the motions of your job and actually caring about the connections you make. When this woman was traveling from Nashville back to her home town of Bridgeville, PA, she had no idea that she was going to leave without a large portion of her luggage. But this woman didn't just have ordinary luggage, she had a bag full of medicine and other chemotherapy items that she uses on a daily basis to fight her stage four colon cancer. Without this bag, she was in an extremely tough position.
Stacy Hurt was able to catch an early flight home but unfortunately, she was separated from her bag. Due to problems with the flight, her bag was left in Nashville, and never made it to her home state of Pennsylvania.
"I was panicking," she said. The reason she was so afraid was that in that bag was the medicine that helped her cope with the intense side effects of her chemotherapy. Without those medicines, she was in for a very sick and hard couple of days. She had a chemotherapy appointment the next morning also, and she wanted to wear her favorite shirt which she wore to every appointment. This shirt was also left in the bag.
She contacted the airport directly and began asking if there was any way she would be able to get her luggage. "I got very emotional. I started to cry and explained to Sarah what was in the luggage and how I needed it," said Hurt. Sarah is a southwest airline employee who answered the phone. Sarah promised that she would be sure to send the luggage with the courier if it came in that night. Unfortunately, the courier left for the night before the bag came in. This meant that Stacy would have to wait. That is when Sarah did the unthinkable.
Sarah took the bag and drove it all the way to Stacy's home at 3am. She left the luggage on her doorstep with a note that read "Sorry for the delay getting your bag to you. Myself and my Southwest family are thinking of you and wishing all the best. Kick that cancer's BUTT! With LUV, Sarah from PIT."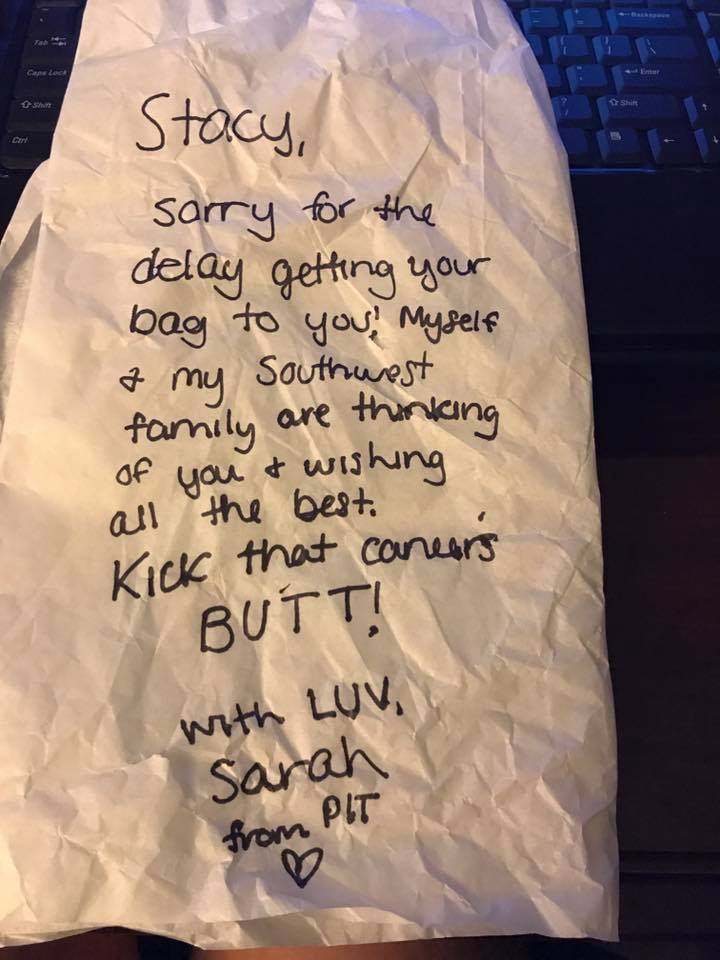 "I cried. I just started bawling. I kept saying to my husband, 'Who does this?' This is an example that there are really good people in the world who care and go above and beyond. This woman has restored my faith in humanity," said Hurt.
The person was later identified as Sarah Rowan. She is being hailed as a a great employee and an even better person for her act of kindness.
We are so moved by the act of kindness and think that she deserves all of the recognition she can get. If you agree, please SHARE this story with a friend!