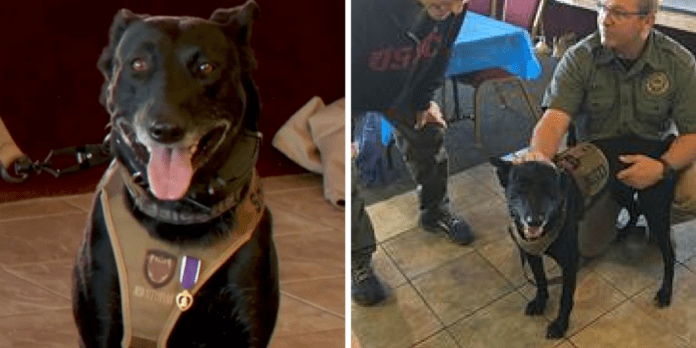 She walked into the room, going up to anyone who was willing to offer her some attention and love. And luckily for this 7-year-old Belgian Malinois, that's what everyone was there to do. Why? Because this day was all about this loving pup, and her heroic actions.
You wouldn't have known it by looking at her, but this brave dog, Tess, had been shot just 2 months earlier in the line of duty. And now, she was getting what she rightfully deserved, a Purple Heart Medal for her bravery.
During an alleged carjacking and then police chase, poor Tess was shot in the jaw, and her once seemingly long life was beginning to look short.
Because of her actions, she was still able to get the man, 55-year-old Alvie Jared Grover, arrested and locked away. But it didn't take long for help to be on the way for this courageous dog.
Tess was initially treated in St. George but was then transported to Las Vegas, where she would be treated further, to ensure she would be just fine.
Tess was flown to Las Vegas, and the law enforcement officials even decided to close Tropicana Avenue so the helicopter that was transporting her would be able to land on the street in front of the Las Vegas Veterinary Specialty Center.
But even through it all, Tess has remained strong. Not once did she show signs of giving up.
"It's a never-ending process getting her back into work, working through the struggles she's had. We've worked back through some gunfire situations, we've worked on getting back on some biting. She's progressing very well, so it's very impressive how strong of a dog she really is. It just goes to her true character and her drive," said Deputy Mike Graf, Tess' handler.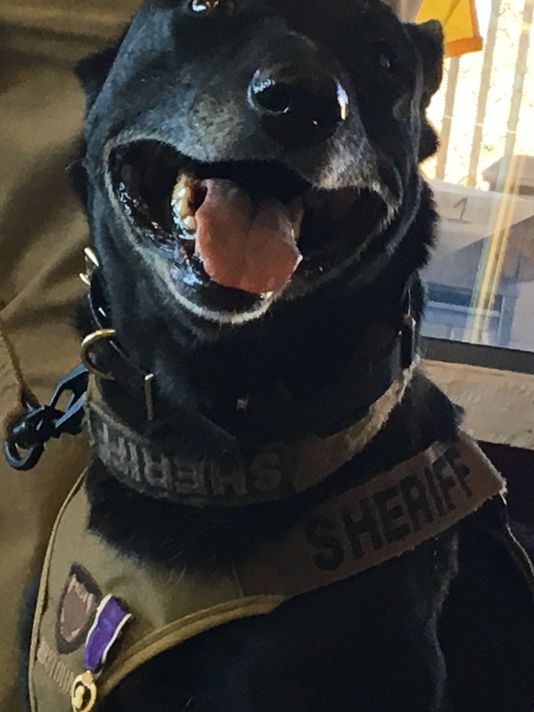 With everything she has gone through, and continues to overcome, giving her a Purple Heart seemed like the perfect thing to do. So that's exactly what they did. And the medal is now pinned onto her vest for all to see, along with a plaque for her heroic actions and bravery.
"This is so important to us because those K-9's are so important to their officers. She saved lives that night," said President of the Vietnam Veterans of America, Danny Greathouse.
We are so thankful that Tess is doing so well, and will be making a full recovery! And we are even more thankful that she received a Purple Heart Medal. Way to go Tess!
If you are thankful that Tess is OK and believe that she deserves the Purple Heart Medal, SHARE this post!
Article via The Spectrum