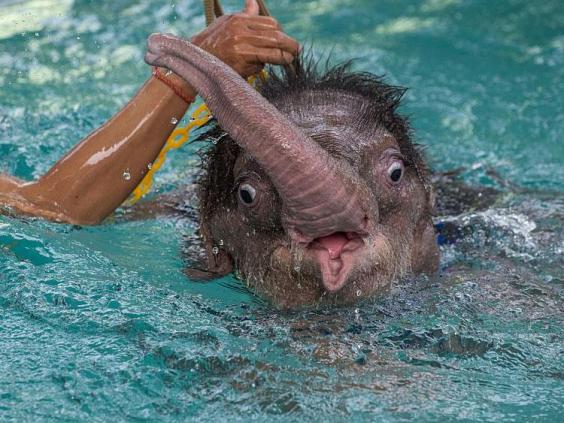 Things looked pretty desperate for this baby elephant. She was separated from her mother and stepped on a snare laid by a farmer to protect his crops in Thailand. The six month old elephant lost part of her foot in the trap. She was found hobbling and all alone.
The baby elephant, now known as "Clear Sky," was rushed to an animal hospital in the Chonburi province, just a few hours away from the capital city of Thailand, Bangkok. They immediately provided surgery for her wounded foot. They also began a treatment to help her walk again using hydrotherapy. The doctors believe that with regular sessions in the water, Clear Sky will strengthen her muscles and be able to walk again.
This precious baby elephant did not take to the water right away. She would reach out to the workers for support when splashed or lowered into the pool with a harness. But by her 4th or 5th sessions, they believe that she will be totally acclimated and enjoy the therapy.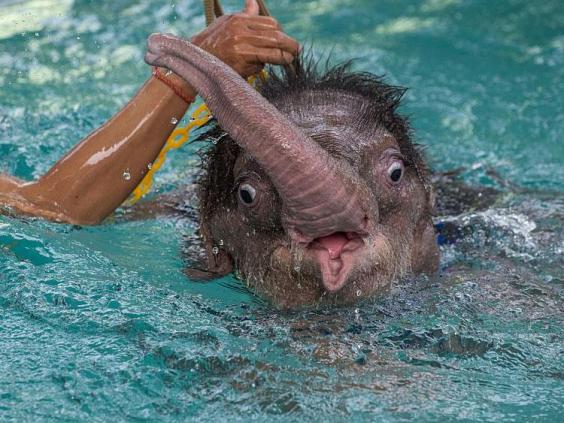 "She is still a bit nervous and scared of the water. But if she can do this regularly she will have fun," said veterinarian Padet Siridumrong.
They will keep Clear Sky in this kind of hydrotherapy for several months and believe the strength she gains will keep them from having to give her an artificial leg to support her increasing weight.
So it sounds like the report is no rain, no clouds, just a "Clear Sky" ahead!