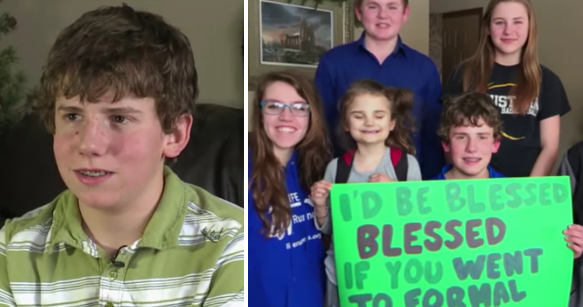 AJ Spader is a 15-year-old high school student who just attended his first formal dance. He decided not to ask one of the girls from his school to be his date for the winter formal, instead, AJ invited his sister, Rebekah to be his date. The reason will leave your heart melted.
Rebekah Spader is a beautiful 10-year-old girl who was diagnosed with Myelodysplastic Syndrome and Leukemia. Her bone marrow treatment failed and Rebekah's family decided that she would no longer receive the harrowing treatment. Her time on this earth would be very limited.
AJ decided that he wanted his sister to experience the joy that comes from going to a high school dance. "I wanted to ask my sister because she's most likely not going to be able to experience high school. So I just thought why not ask her to formal," AJ explained.
Rebekah picked out a beautiful formal dress, had her hair curled and even wore a stunning tiara. She felt like a princess! This brother and sister took wonderful photos with their corsage and boutonniere, ate a delicious pre-dance meal and totally enjoyed the formal dance. AJ stayed right by Rebekah's side the whole time and made sure she had the time of her life. She just kept grinning from ear to ear.
AJ and Rebekah's father said, "A lot of times there's a joy-filled moment, but yet there's a little sorrow because you know this is probably one of her last opportunities she's going to have to do something like this."
Sadly, Rebekah Coeli Spader passed away on August 4th, 2016. She was surrounded by a family that loved her. And she had a brother who danced with her.