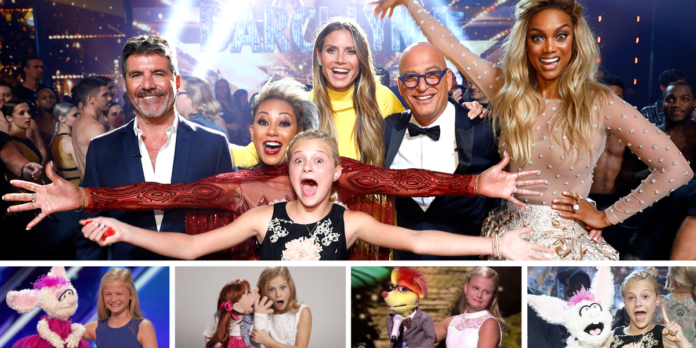 The curtains have been closed on Americas Got Talent for the 2017 year.
Who did America vote for to win their very own show in Las Vegas, and also, A Million dollars???
12 Year old Darcie Lynn Farmer.
Darcie's talent act was definitely one to remember and fall in love with throughout the show this year. Her talent is amazing, and her voice(s) has pulled some heartstrings.
The shy pre-teen has mastered the skill of being a Ventriloquist, which is not easy to do. Not only does Darcie have an amazing talent of conversation with her puppets and cracking jokes at the judges, but her Puppet friends also sing.
This past Tuesday on AGT final show, Darcie's act took the stage. She had 2 puppets on hand and looked beautiful as ever.
After conversing with her pals for a few moments, the puppets began to sing. Each puppet had a distinct and wonderful singing voice. And the whole time, this 12-year-old, did not move her mouth once. What an incredible talent, I can't even talk without moving my mouth, let alone sing.I watched the show with amazement. Every time she enacted the puppet belting out those Beatles lyrics, I said aloud, " Wow, she's going to win."
I watched the show with amazement. Every time she enacted the puppet belting out those Beatles lyrics, I said aloud, " Wow, she's going to win."
America thought so too. As Darcie Lynn was waiting excitedly on the AGT last night, her nerves were through the roof. Standing next to her opponent, and friend, Angelica Hale, she had a hard time staying calm.
Farmer shared her feelings were, "all bottled up inside, because I felt so loved on my AGT journey…and it just all came out." This explains her stage presence for the last few minutes of last night's show.
Once Darcie Lynn Farmer was announced as this year's winner, the stage went crazy!! Her family was dodging all the golden tickets to make to Darcie to embrace her and congratulate their talented Ventriloquist. Farmer was crying and laughing, and then crying and then laughing, all while wiping away tears of extreme joy. She even saw her little brother wipe away a few tears as well.
"I am really, really happy because my little brother cried and he never cried before, Farmer stated. " And it made me laugh too, because I'm like, 'You're crying, man. You're crying."
Once the excitement settled, and the show was off the air, the Farmer family got to sit down, dry their tears. and let all of this news settle in. Darcie was ready to share what she wants to spend her million dollars on. Her first splurge was going to spend on her mother. Before she mentioned what she wanted for herself, Farmer stated, "I have to get my mom a dishwasher, and maybe get a fridge along with it."
Second, a wish for herself, "I want a pug so bad, because I love puppies and its been a long time since I had a puppy. They have wrinkles and fat rolls, and their so cute."
Listening to Darcie talk about her love for puppies, almost makes you forget that just this little girl just won America's Got Talent. And just last week she was working with Terry Fator (Season 2 ventriloquist, on her act for the Finals. "The way I would describe her style is flawless," Fator shared.
Fator invited Farmer to extend her Las Vegas experience by performing on his show once her show is done. "She is at 12 years old, one of the most unbelievable, perfect ventriloquist I've ever seen, and she'll only get better."
I think we can all agree that this little girl is going to make it far. Share this clip of last nights performance, of Darcie and her puppet pals singing, " Help from my Friends."
From her very first performance:
Video Source: rumble.com
To her final night:
She will always be a superstar in our eyes.
If you're glad that this incredible 12 year old's dreams have come true, please SHARE this!
Source: usatoday.com