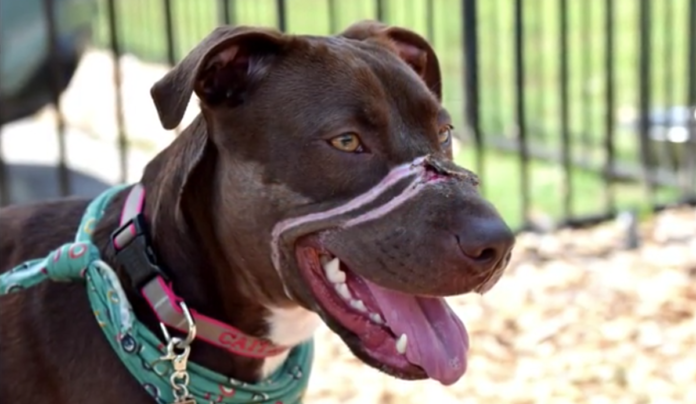 A chilling 911 call came in from a South Carolina resident after she found an injured, scared, and abused dog on her front porch.
"I have a dog that's here at my house that I found and the dog's mouth is taped shut with electrical tape, tongue hanging out its mouth, bleeding, and his tongue is completely black," a 911 caller said, according to ABC's WCIV. "I just don't know what to do."
Charleston Animal Society immediately stepped in to save the pup. The tape that was around her muzzle was cutting off circulation to her tongue. She had difficulty breathing and she was not able to eat or drink.
The circulation that was cut off from her tongue caused decay. Her doctor, Dr. Henri Bianucci, examined her, hoping for the best but he was expecting the worst.
"Her tongue was in way better condition than we anticipated. It was initially assessed that we would lose about a third of her tongue, and we sort of revised that estimate to a fourth, but I don't think she lost an eighth of it," Bianucci said shortly after the surgery.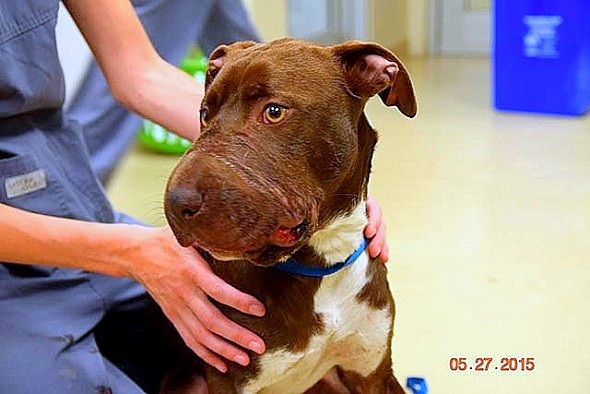 On top of surgery, Caitlyn also went through cold laser therapy and had to use a hyperbaric oxygen chamber to promote healing of her extensive wounds. It took time and effort for her wounds to heal.
But Caitlyn would not allow her previous abusive owner to affect her life again.
She was gifted the best day ever by BarkPost. The best day ever included all of her favorite things. First, she got her favorite thing in the whole world– a box of tennis balls.
Then she got to spend the day with one of her favorite people, Josh Allen, from the St. Andrews Fire Department.  Josh spent hours with her as she recovered, making him one of her favorite people. In turn, she got to spend the day with him and his pals at the station.
Among other fun, she also got to have her favorite drink from Starbucks. And at the end of the day, when she returned to her friends at CAS, BarkPost donated $1000, toys, and blankets for her and her friends.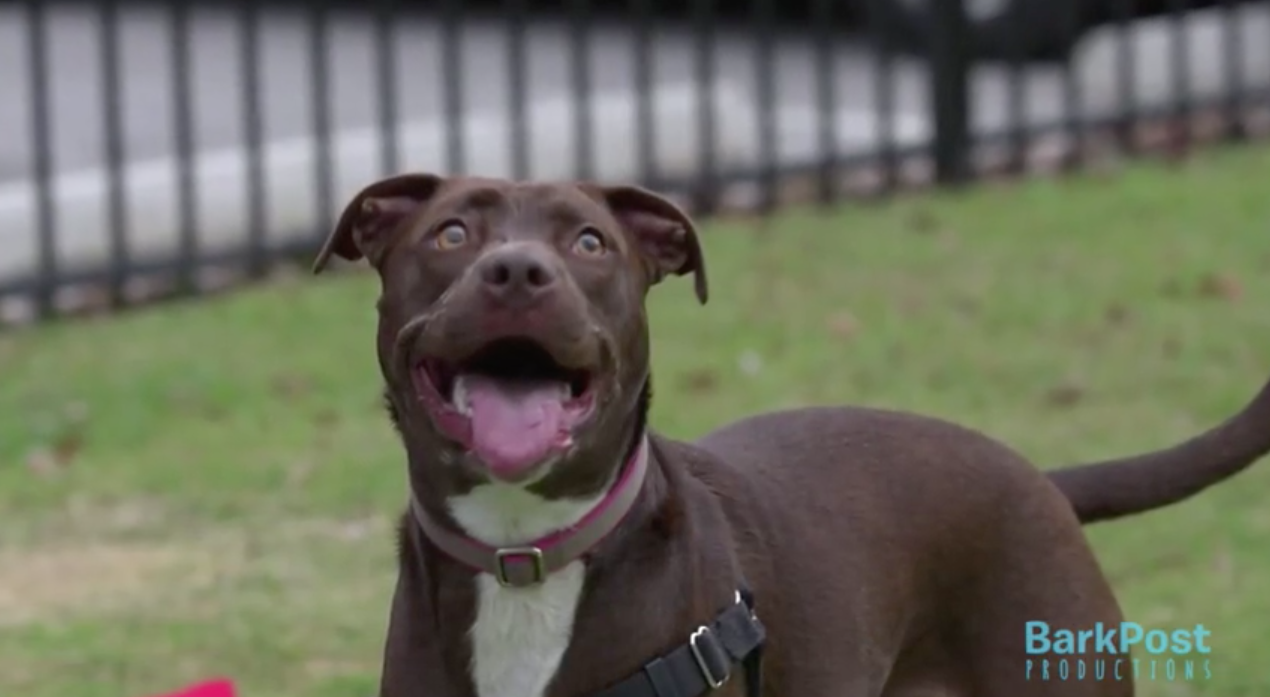 Besides all of the gifts given to her, this brave girl raised almost $400,000 to benefit other pups in need. Oh, and did we mention that she is a dog ambassador for pups like her. She is the face of abused dogs, but she uses it for all good. Her scars don't stop her from smiling pretty when it comes to living the good life.
If you think Caitlyn is one brave pup and you want to get her story out, like and SHARE this with your family and friends!
Source: lifewithdogs.tv, Charleston Animal Society, abcnews4.com, and Rumble.com