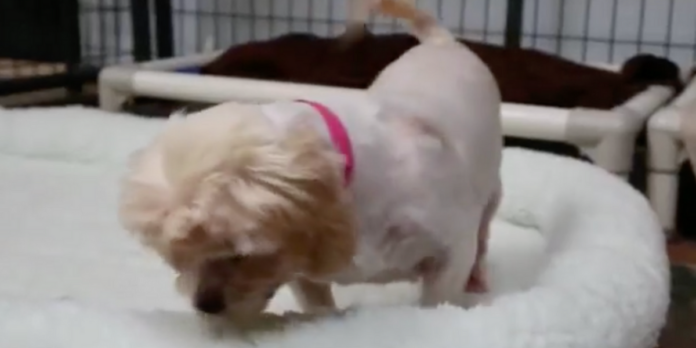 Puppy mills are becoming a major problem around the world. It is estimated that there are approximately 10,000 puppy mills just in the United States.

Taking place in the mills; female dogs are bred at every opportunity with little to no recovery time between litters. Dogs are crammed into small cages with no room to exercise or play and have never been removed from their cages for socialization or even proper veterinarian care.
They spend most of their lives in these cages. What a sad and dreary life that must be for these animals. Delilah has gone through many of these conditions but her story has a happy ending!
Delilah is an adorable Lhasa Apso. She is 9 years old. Sweet Delilah was one of these dogs, living out her life in a puppy mill. Like all other puppy mill mother dogs, her worth was measured in only one way- her ability to produce puppies.
She spent almost all of her 9 precious years of life in one of these small wire cages. No one to love her or give her the love and affection she much deserved. She was sleeping on a hard wire cage every night, all alone.
Until one day she was rescued by National Mill Dog Rescue.  NMDR is a non-profit organization located in Peyton Colorado. They rescued Delilah from the puppy mill brought her back and cleaned her all up. Freeing her from knotted and tangled hair.
Then they gave her something that she had never experienced before… Her very own bed! She had never slept in a bed until this very day. Her reaction was absolutely precious! She was so joyful, rolling and rubbing all over this soft and cozy bed.
Thank you NMDR for giving Delilah a second chance at life and freeing her from a life spent in a cage. Also, thank you for sharing this adorable moment with us!
Watch her adorable reaction to her new bed below! It will surely melt your heart!
If this video melted your heart please SHARE it with your friends!
SOURCE: milldogrescue.org and rumble.com