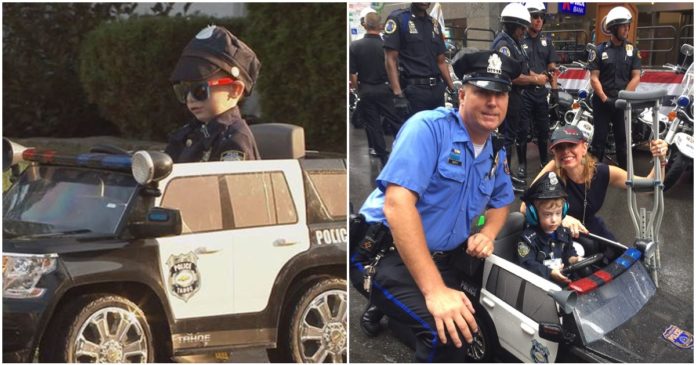 The 63rd annual Hero Thrill Show kicks off at noon on Saturday, Sept. 23 outside of the Wells Fargo Center in Philadelphia, it will be more than just another annual show.
This year, there is a special member of the police force who is ready to step up and do his part to spread love and cheer, and he goes by the name of Ryder Simms.
Ryder was sworn in as an honorary member of the Philadephia Police Department recently and he has been gaining a lot of attention over the past week as being someone who spreads lots of joy and cheer. Ryder's parents spoke about his love for Police-related items and how over his three early years of life he has collected lots of police-related toys.
"None of us pushed him to like police-themed toys," Alana Simms, Ryder's mother, explained. "He just seemed to skip over the baby toys and gravitate right to police and fire equipment."
"They almost all have sirens too," mom Alana said with a chuckle. "His favorite thing to do is line up and play with his police cars, arrest people and holler 'stop' as he blows his whistle. Every time that we go to a store, he insists on buying some kind of a police-related toy. He has a really good grandmom who likes to spoil him, too, by buying him police toys. She even got him a motorized police cruiser to ride around in."
Ryder was born with a disease known as sensory processing disorder. It is very similar to autism, and Ryder was born seven months premature. Loud noises and sensory overstimulation cause him to go into a meltdown. He often wears headphones in order to protect himself from loud noises.
The Hero Thrill Show was established 63 years ago, in 1954, after ten firefighters were killed in an explosive gas fire at a chemical building in North Philadelphia. The firefighters family was left with almost no benefits and the local community found themselves scrounging together money to help them in their time of need.
The show garners money for the families of officers and firefighters who have died in the line of duty. If you are interesting buying a ticket, you can at:
http://hero-thrill-show.ticketleap.com/hero-thrill-show
Source: delcotimes.com
If you loved this sweet story please SHARE with your friends and family and watch these videos of kids becoming honorary police officers: