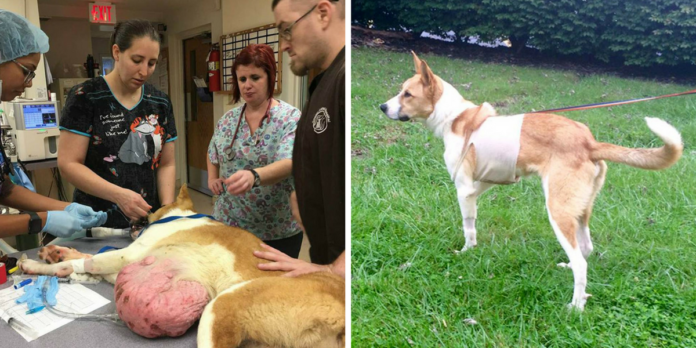 Clyde a one-year-old Pup had a 6-pound tumor on his chest. It was so large that when he walked it dragged on the ground.

His owner didn't believe his life was worth saving, so he dropped Clyde off at the Kentucky Animal Shelter and asked them to euthanize him. He then walked away.
The shelter believed his life was much more valuable and refused to do so.
"He seemed like a happy dog,"  said Kayla Nunn, Gallatin County Animal Shelter employee.
"He was really underweight. You would think he'd be scared and have no energy. He was happy to see everybody. He didn't care if you touched his tumor." she added.
Nunn asked to be given 3 days to try to find Clyde a rescue that could help him. Knowing her time was crucial, she began contacting rescues, desperately trying to find someone to help Clyde.
After getting in touch with Hart Animal Rescue of Cincinnati, Ohio, Clyde had a new home within 4 hours. HART rescue took Clyde in with loving arms.
"Because he's only a year old, that is way too young for a death sentence," said Katie Goodpaster, the lead intake coordinator at HART. "He was very kind. He was sweet. He just seemed to be happy to get loved on."
Clyde's tumor was 12 inches long.
From it being dragged on the ground it was bleeding and had already begun to rupture. HART believe that the tumor had been growing for around 6 months.
Clyde went for surgery the very next day at the County Animal Hospital in Mason, Ohio. It took two hours to remove his large tumor. The surgery was a complete success.
The next step is to get a biopsy done and find out if the tumor could be cancerous. If it is cancerous then chemotherapy is next on Clyde's road to recovery.
But the vet believes that Clyde still stands a very strong chance. Once Clyde is better and recovered from his procedure, they hope to put him up for adoption.
They believe they will have no trouble finding him a wonderful loving home!
If this story has brightened your day, please SHARE it to bring joy to someone else's day too!
SOURCE: today.com and people.com